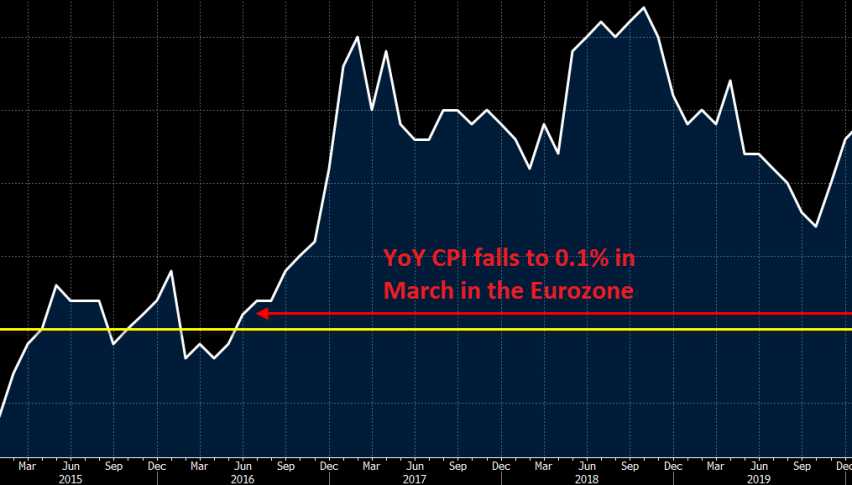 Eurozone Inflation Falls to 0.1%, But Core CPI Holds
Inflation was already weakening last year in the Eurozone, both headline and core CPI falling below 1%. But, with Crude Oil prices falling into negative territory in April and the lockdown due to coronavirus, inflation was going to fall further. Headline CPI YoY (consumer price index) inflation fell to just 0.1% in March, but at least core CPI is holding up well.
Eurozone CPI Report Released by Eurostat – 29 May 2020
May preliminary CPI YoY +0.1% vs +0.1% expected
April CPI stood at +0.4%
Core CPI YoY +0.9% vs +0.8% expected
April core CPI YoY at +0.9%
As estimated, headline annual inflation slumped further in May to its lowest level in four years now. The only comforting spot for the ECB is that the core reading is holding up steady, but is still not really going where they need it to be going. Inflation readings may not be a major focus in the market right now, but it will be once the dust settles down a bit more from the coronavirus crisis.
ECB Money Supply Report
Broad money is seen swelling in April amid the injection of liquidity to combat the coronavirus crisis, with credit to the private sector and general government seen increasing notably. Also, loans to the private sector and non-financial corporations continue to stay elevated – especially the latter, which is seen at nearly +7% year-on-year.