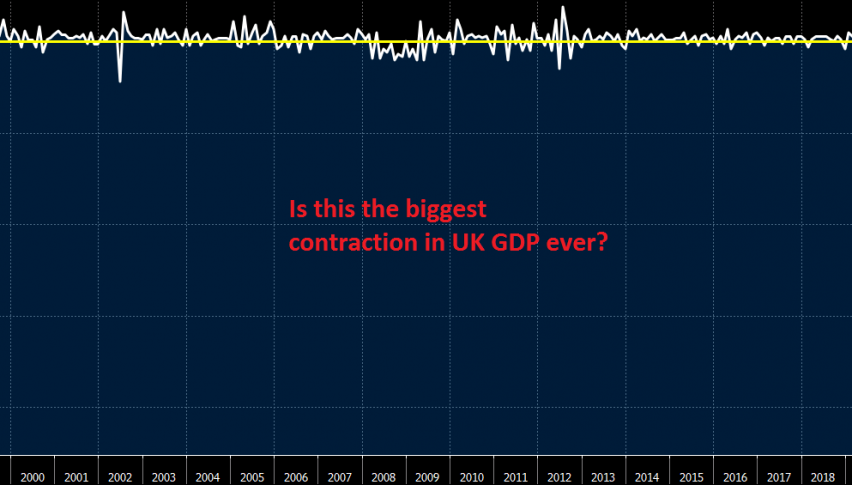 UK GDP Contracted by A Whopping 20% in April
The UK economy was already pretty weak last year, as the global economy weakened considerably, partly due to the trade war between US and China and party because major central banks had been tightening the monetary policy pretty fast since 2016, removing much needed liquidity from markets. Now they are throwing all they have back at the economy, but it is not helping it, as the coronavirus lock-down has put te economy in a very difficult position for many countries. The UK economy contracted by  5.8% in March, while in April it dived by a massive 20.4%.
GDP Report Released by ONS – 12 June 2020
April monthly GDP MoM -20.4% vs -18.7% expected
March GDP MoM -5.8%
Monthly GDP 3M/3M -10.4% vs -10.0% expected
March GDP 3M/3M -0.1%
Slight delay in the release by the source. Those are some awful figures and it goes without saying that the plunge in economic conditions during April is the worst that the UK has encountered in history. ONS notes that virtually all sectors of the UK economy were hit as a result of lock-down measures and also the overall fallout from the coronavirus outbreak.
There's also factory activity data released at the same time are as per below:
Manufacturing production April -24.3% vs -15.6% expected
March manufacturing production -4.6%
Manufacturing production YoY -28.5% vs -19.9%  y/y expected
Prior manufacturing production YoY -9.7%
Industrial production April -20.3% vs -15.0% expected
March industrial production -4.2%
Industrial production YoY -24.4% vs -19.3% expected
Prior industrial production YoY -8.2%
Construction output April -40.1% vs -25.0% expected
Prior -5.9%
Construction output YoY -44.0% vs -31.3% expected
Prior construction output YoY -7.1%