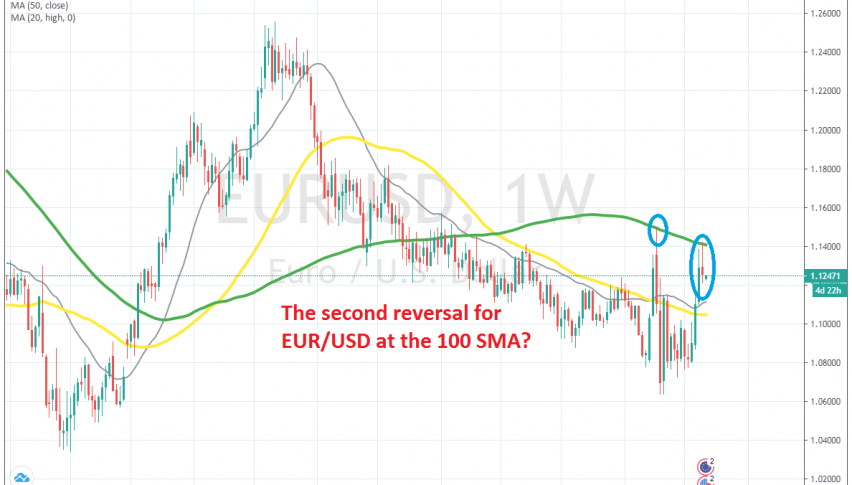 Strong Bearish Signal on the EUR/USD Weekly Chart
EUR/USD has been trading on a bearish trend since early 2018. But, since the middle of May we have seen a strong bullish move on this pair, which has taken the price more than 600 pips higher. The main reason for this was some increased USD weakness which we have witnessed during this period.
The Euro also strengthened, after the ECB increased the economic stimulus programme to 1.35 trillion Euros. But, that move seems to have ended at the 100 smooth moving average (green) on the weekly chart. In fact, a strong bearish pattern has formed here. The 100 SMA has provided resistance before and the retrace is overdone now on this timeframe.
Besides that, last week's candlestick closed as a bearish upside-down hammer/doji, which is a reversing signal after the climb. The bullish move of the last few weeks has been quite strong, but that's how the move in late February/early March was and then we saw a dramatic reversal in the next two weeks. EUR/USD hasn't been able to move above the moving averages on the weekly chart since two years ago, so chances are that it won't do that this time either.
We will try to open a long term sell forex signal if the price retrace closer tot he 100 SMA again this week. If it does so and forms a bearish reversing signal on the smaller time-frames up there, such as a doji candlestick, then we might go short on this pair, targeting 1.10 first.