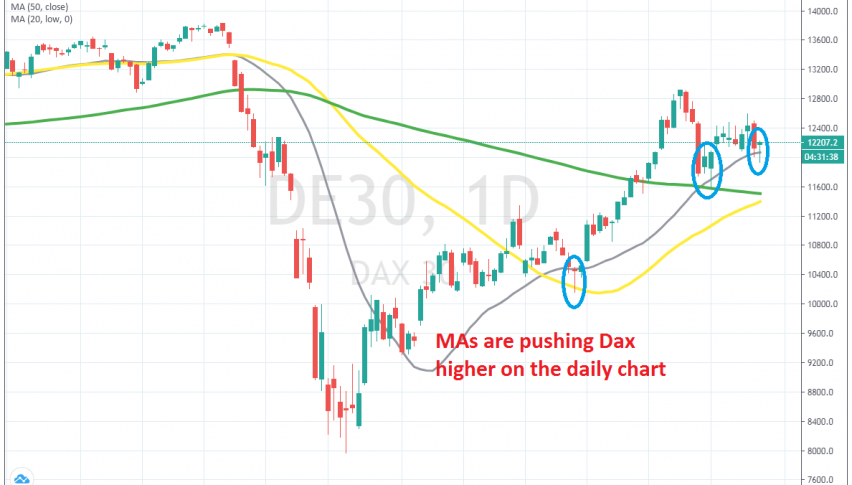 The Decline in Stock Markets Seems to Have Ended
Indices have been bullish since mid March, which came after stock markets crashed lower for a month as the coronavirus broke out in the West, from the middle of February until the middle of March. But, as governments and central banks stepped in, throwing all they had, as well as all they could borrow and the sentiment reversed.
Stock markets reversed by the middle of March and they have ben bullish ever since. We have seen some decent pullbacks, but they have eventually ended and the bullish trend has continued for indices, such as the German DAX 30. Moving averages have been doing a good job in providing this index supported on the daily chart.
The 50 SMA (yellow) took up that job, then the 100 SMA did so earlier this month, when we saw a decent pullback. While yesterday we witnessed another retrace, but smaller in size. Both times, the 20 SMA turned into support for Dax and the price bounced back up. The US regulators easing restrictions on banks also helped the situation.
The daily candlestick closed as a pin yesterday,which is a bulish reversing signal after the pullback and now the pullback seems complete on this time-frame, so I think that this is a good opportunity to buy Dax here. Although I would have liked to have bought lower at the 2100 SMA, which is standing around 170 pips below. If we see another pullback down there and it holds again, then we might buy Dax at the 20 SMA. But, we will switch to the smaller time-frames for a better entry level.