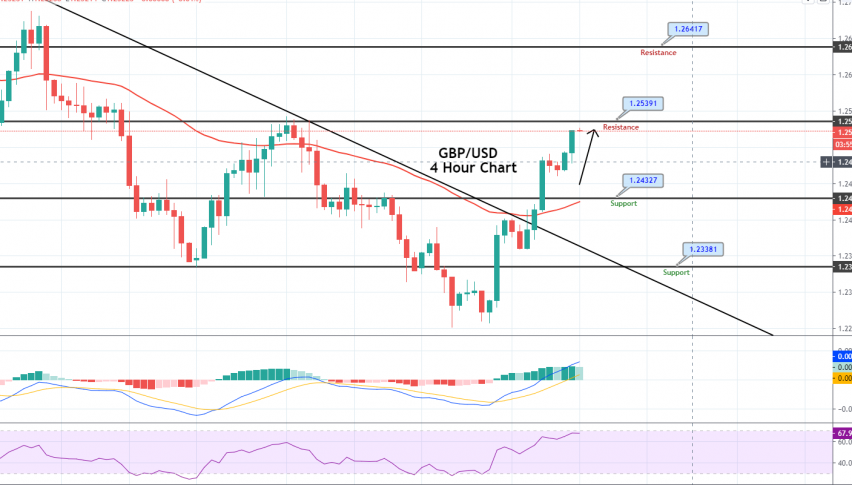 GBP/USD Breaks Over Double Top Resistance – Update on Trading Signal! 
Posted Thursday, July 2, 2020 by
Arslan Butt
• 2 min read
The GBP/USD extended its previous bullish moves, soaring to 1.2475 from the 1.2402 level, mainly due to the broad-based weakness of the U.S. dollar, amid the risk-off market sentiment. The Cable is gaining bullish momentum, despite the fresh tension regarding the EU-UK Brexit talks, which eventually undermined the cable currency and contributed towards the bearish sentiment in the market.

Let us recall: the GBP/USD pair was also burdened by the release of the final Gross Domestic Product figure, suggesting that the contraction during the first quarter was deeper than initially estimated. The GDP of the U.K. dropped by 2.2% in the first quarter of 2020, mainly due to the COVID-19 outbreak, as per the revised estimate released by the Office of National Statistics.

Furthermore, UK PM Johnson's efforts (via infrastructure spending) to balance the worst GDP in 41 years, gave some breath to the pair's downside bias. However, the GBP/USD bulls might not wait any longer, as the Brexit talks between Britain and the European Union (E.U.) are not showing any progress. The updates suggest that the old neighbors might once again fail to deliver any trade deal when they bid one another adieu on December 31, 2020.

According to the Chief Brexit negotiator of the E.U., Michel Barnier, the United Kingdom had not completed the necessary equivalence assessments by today's deadline, signaling a shock to the U.K.'s efforts to determine the city's access to E.U. markets after Brexit.

Elsewhere, the Conservative Member of Parliament (M.P.) from the UK, Lia Nici, exerted some pressure on the E.U., while, according to the U.K. Express, the handling of the controversial fishing access as 'no deal' will finish off the fishing industries of some of the key regional economies. Later today, all eyes will remain on the U.S. NFP figures that are due to come out during the U.S. session. Economists are expecting data to improve, which is why we are closing our forex trading signal to mature quickly at 15 pips in trade.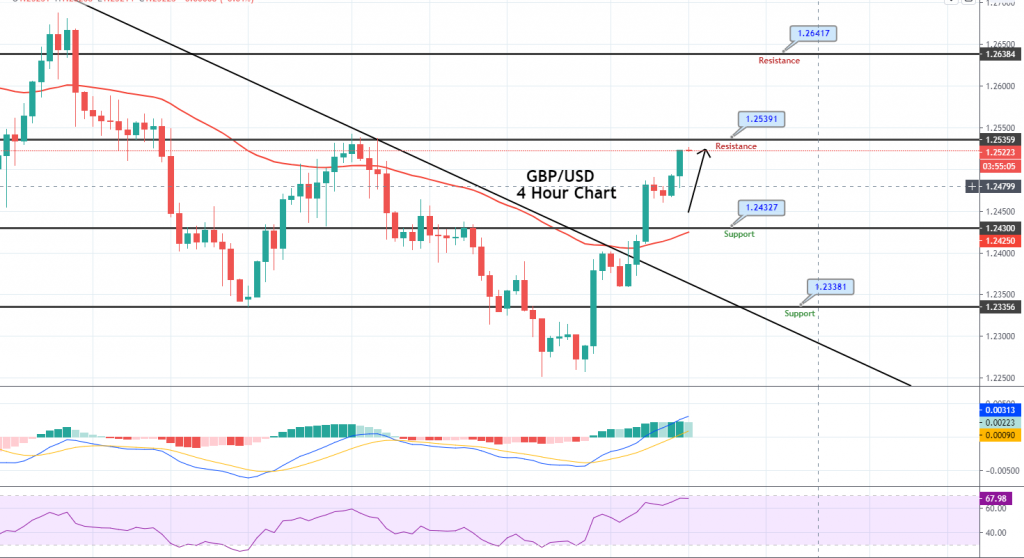 Daily Technical Levels
Support Resistance 
1.239 1.2524
1.2308 1.2574
1.2257 1.2657
Pivot Point 1.2441
The GBP/USD is trading at the 1.2475 level, and it is finding immediate support at the 1.2358 level. Closing of candles above the 1.2404 level is driving further buys in Sterling, and this could push the GBP/USD prices higher, towards the 1.2530 and 1.2620 mark. The bullish breakout at the 1.2400 level could boost buys in Cable, pushing the prices towards the next target level of 1.2504.  Good luck! 
The US consumer is softening as intertest rates go up, which is a factor for the USD retreat and for the FED to stop hikes
22 hours ago