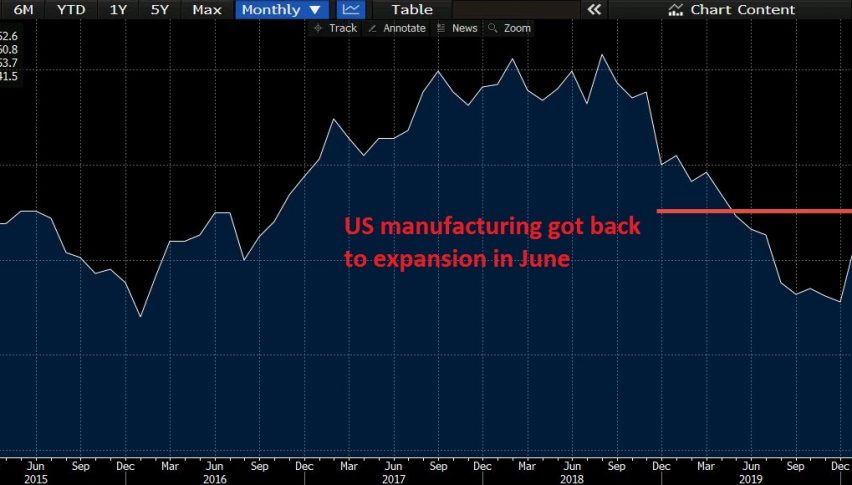 US ISM Manufacturing Gets Back to Expansion After the Isolation
Manufacturing was weak already in the US and globally even before the lock-downs due to coronavirus, because of the US-China trade war. But, the lock-downs sent this sector diving hard, as with all other sectors in most countries. In May, the situation improved somewhat, while today's report was pretty good, with this indicator showing that manufacturing is back in expansion.
Prior month 43.1
ISM manufacturing index 52.6 vs. 49.8 estimate. Highest since April 2019
Employment index 42.1 vs. 32.1 last month
New orders index 56.4 vs. 51.9 estimate and 31.8 last month. The surgeon orders is the largest cents 1948. The new orders index was the highest since January 2019
Price is paid 51.3 vs. 44.6 estimate and 40.8 last month
Production rose to 57.3. That was the strongest reading since November 2018
The index 2 months ago was at a 11 year low
A good reading but with employment today and with the index is still below the 50 level, it is a bit of a disappointment from that perspective. Nevertheless new orders in production are showing good expansionary strength off of the low levels.
Recall however that the index measures the difference from the prior month. Those levels were much lower for new orders in particular at 31.8 last month. As a result, on a reopening, you would expect a rebound in measures like new orders and production.