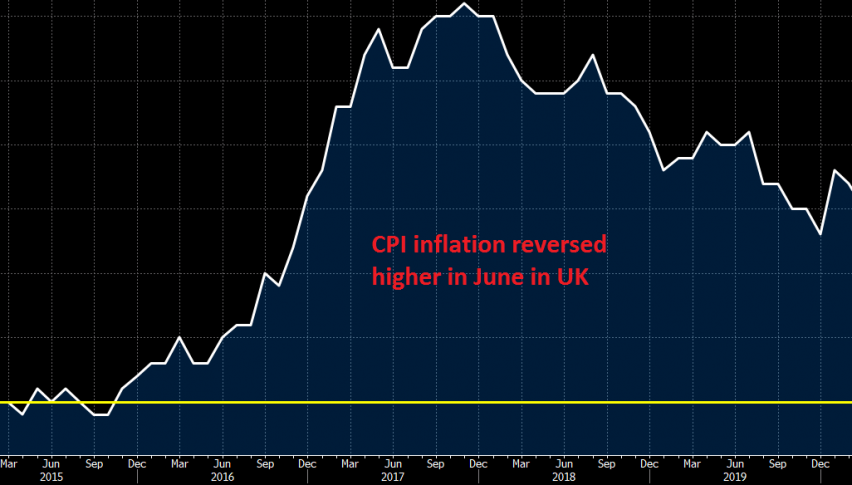 Inflation Moves Higher in June in UK
Inflation was holding up well in the UK last year, despite the economic weakness across the globe, which increased as 2019 progressed. But, it softened in the last few months, as the coronavirus led to lock-downs, hurting consumer confidence and inflation as a result. In May headline CPI YoY fell to 0.5%, but today we saw a tick higher to 0.6% for last month. Core CPI held upo better, declining to only 1.2%, but that also moved higher today to 1.4%. Below is the CPI and PPI report for June:
UK CPI Report, Released by ONS – 15 July 2020
June CPI YoY +0.6% vs +0.4% y/y expected
May CPI stood at +0.5%
Core CPI YoY +1.4% vs +1.2% expected
May core PCI was +1.2%
The good news is that price pressures have rebounded a little last month, with the core inflation reading also ticking higher. However, they remain well off levels the BOE would like and that would keep the central bank on their toes. But at least this should buy some time for policymakers to maintain their wait-and-see approach if the trend keeps up in the coming months.
PPI and RPI Figures
PPI output +0.3% vs +0.3% m/m expected
PPI output -0.8% vs -1.1% y/y expected
PPI input +2.4% vs +3.0% m/m expected
PPI input -6.4% vs -6.5% y/y expected
RPI +0.2% vs +0.2% m/m expected
RPI +1.1% vs +1.1% y/y expected