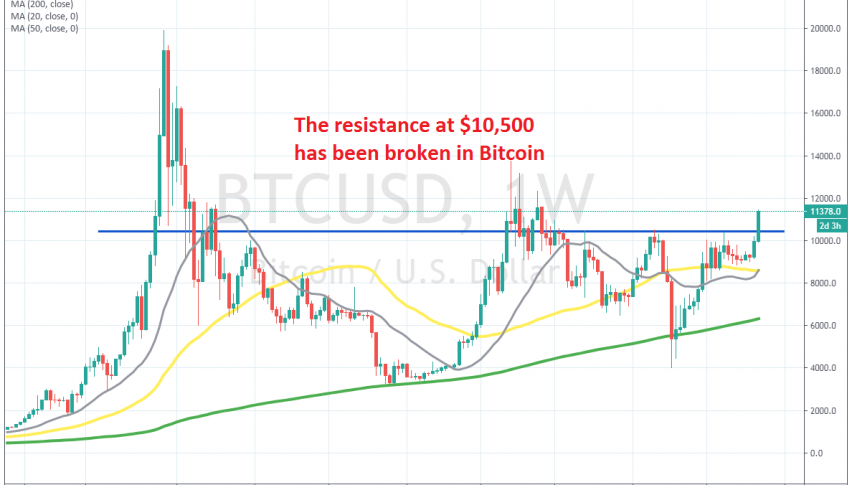 Bitcoin Makes A Decisive Bullish Move This Week
Cryptocurrencies have been indecisive for quite some time, since they failed to resume the larger bullish trend in September last year. he bullish move faded below $14,000, which is a long way from the $20,000 we saw in December 2017, so BITCOIN failed to resume the larger bullish trend.
The price retreated lower, breaking below all moving averages, including the 100 SMA (green), which had been providing solid support in 2018-19. Although, the price didn't fall to far below that moving average and in April this year we saw a reversal and a climb back above the 100 SMA, after the crash in the previous months, as a result of the coronavirus outbreak.
The price moved above the 20 SMA (grey) and the 50 SMA (yellow), so buyers returned again. But, the price got stuck inside a range since April. The previous high at $10,500 was scaring buyers away, but sellers weren't getting things in their hands, with lows only at $8,800, which was a sign that buyers were going to come back again at some point.
The next bullish leg is on for Bitcoin
That moment was on Monday this week, when Bitcoin made a decisive bullish move, climbing around $1,400 that day from the bottom to the top. So, the resistance at $10,500 was broken and Bitcoin is heading for last year's high at $14,750. Bitcoin wasn't pushing for new highs this week, but on Friday it seemed like buyers came back again and pushed above Friday's high. So, the bullish momentum is on now and we will try to buy pullbacks, probably at $10,000.