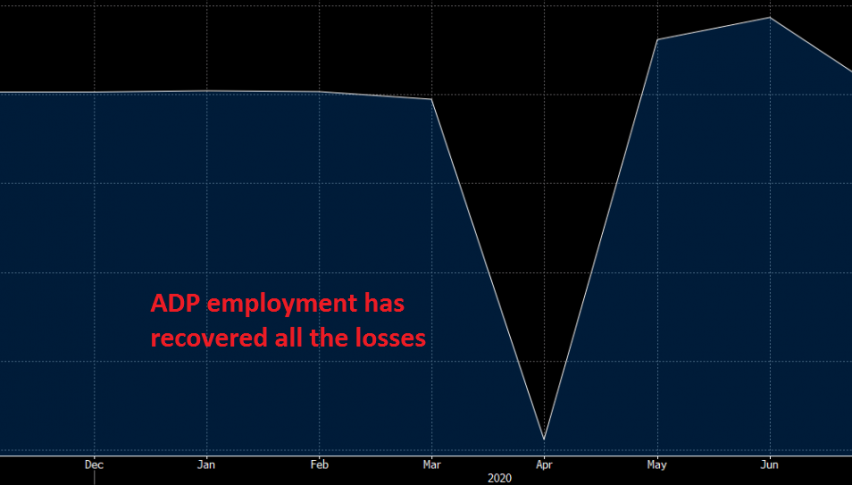 ADP Employment Declines, ISM Services Expand Further
The ADP non-farm employment turned negative in March, for the first time in a very long time. But, the big decline came in April, during the height of the lock-downs. May was another negative number, at -2,760K, but in June we saw 2,369K increase, which was revised higher this week to 4,314K. They were expected to cool off in July to 1,200K, but they came at 167K, which was quite weak. But, the ISM services report showed another increase in July to 58 points. Below are both reports:
US July ADP Jobs Report
July ADP employment +167K vs +1200K expected
June ADP employment was +2369K (revised to +4313K)
Small businesses +63K
Midsized businesses -25K
Large businesses +129K
Goods producing businesses +1K
Services +166K
That's a big miss in jobs and is going to stoke fears about a similar miss ing non-farm payrolls (consensus +1500K). There's a big revisions to the upside on the prior but the market is more interested in what's happening now than in June. All that said, ADP has been a poor predictor of anything in the COVID-era.
ISM services index for the month of July
the ISM services index for the month of July rose to 58.1 vs. 55.0 estimate. The prior month came in at 57.1.
ISM services index 58.1 vs. 55.0 estimated. Prior month 57.1
Business activity 67.2 vs. 66.0 last month
New service orders 67.7 vs. 61.6 last month
Backlog of orders 55.9 vs. 51.9 last month
Employment fell to 42.1 from 43.1 last month
New export orders 49.3 vs. 58.9 last month
Imports 46.3 vs. 52.9 last month
Supplier deliveries 55.2 vs. 57.5 last month
Inventory change 52.0 vs. 60.7 last month
Inventory sentiment 50.0 vs. 55.9 last month
The services sector engages a new high since February 2019 in July. Services orders index rises to an all-time high. On the other hand, export orders fell, as did employment. But the overall orders are higher, so this report leans clearly on the positive side.
EUR/USD has been heading lower since last Thursday, as we head into the FED rate decision later today
5 months ago