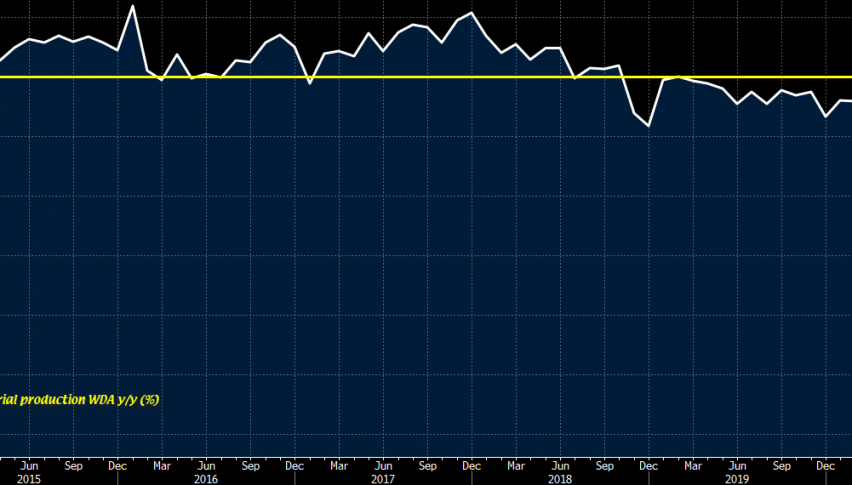 Industrial Production Posts Another Strong Increase for June, But It Remains Negative YoY
Industrial production was already quite volatile last year in the Eurozone, as the US-China trade war was keeping the sentiment pretty weak for manufacturing and the industrial production. But, it went through some major declines in May and June, during the lock-downs, like most of the other sectors. In May we saw a strong bounce and today's report showed yet another decent increase in activity for June, but the year-on-year (YoY) figures still remain quite negative.
Eurozone June Industrial Production Report
June industrial production +9.1% vs +10.0% expected
May industrial production +12.4%; revised to +12.3%
Industrial production WDA YoY -12.3% vs -11.6% expected
Prior industrial production WDA YoY -20.9%; revised to -20.4%
Similar to May, the rebound in euro area factory output was less-than-expected but still shows signs of improvement since bottoming out in April. That said, the recovery remains rather tepid with overall conditions still way off relative to that of a year ago.
Nonetheless, this pertains to Q2 data and it is pretty much a quarter that is written off at this point. The data over the next few months will offer a better indication of the recovery process and how sustainable that will be towards the end of the year. Anyway, the Euro has climbed higher after that report, with EUR/USD trading at 1.1770s now.
GBP/USD is testing the 200 daily SMA for the second time, which held for the second time last Friday
1 month ago
USD/CAD surged 150 pips higher today as the USD buyers returned, although it's the first trading day of 2023
3 months ago