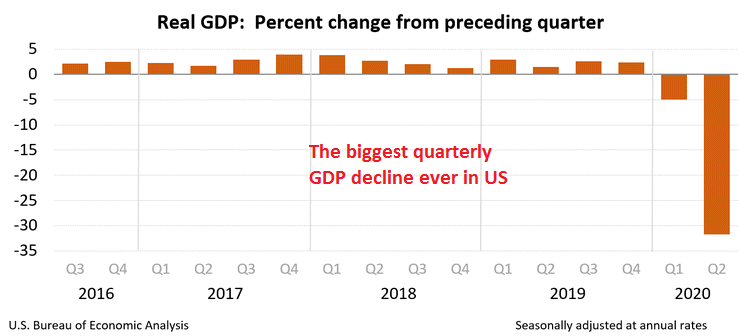 US Q2 GDP Revised Slightly Higher
Everyone was predicting a big dive in the US GDP during Q2, as we saw in most countries. The first GDP reading was expected at -34%, but it beat expectations, coming at -32.9%. Today's reading was expected at -32.5%, but it was revised higher to -31.7%. That's still a big contraction, but that's an annualized number, meaning that in Q2 the real contraction was less than 8%. Below is the second GDP reading for Q2:
US Second Reading on Q2 GDP
Q2 GDP second reading -31.7% vs -32.5% expected
US initial jobless claims 1006K vs 1000K estimate
The first estimate was -32.9%
Q1 was -2.5%
Final sales -28.5% vs -29.3% prelim
Business investment -26.0% vs -27.0% prelim
Consumer spending -34.1% vs -34.6% prelim
Exports -63.2% vs -64.1% prelim
Imports -54.0% vs -53.4% prelim
Inventory change -$286.4B vs -$315.5B prelim
GDP deflator -2.3% vs -2.0% expected
Despite the headline, there's more good news here than bad. The revision higher in inventories means that inventory rebuilding will be less of a tailwind in Q3 and Q4 than anticipated. The drop in inflation also added to real GDP.
"In the second estimate, real GDP decreased 31.7 percent in the second quarter, an upward revision of 1.2 percentage points from the previous estimate issued last month. The revision primarily reflected upward revisions to private inventory investment and PCE," the BEA said in the release.
We have some important economic events this week, although crude Oil is under spotlight as China's economy should show a rebound
4 weeks ago