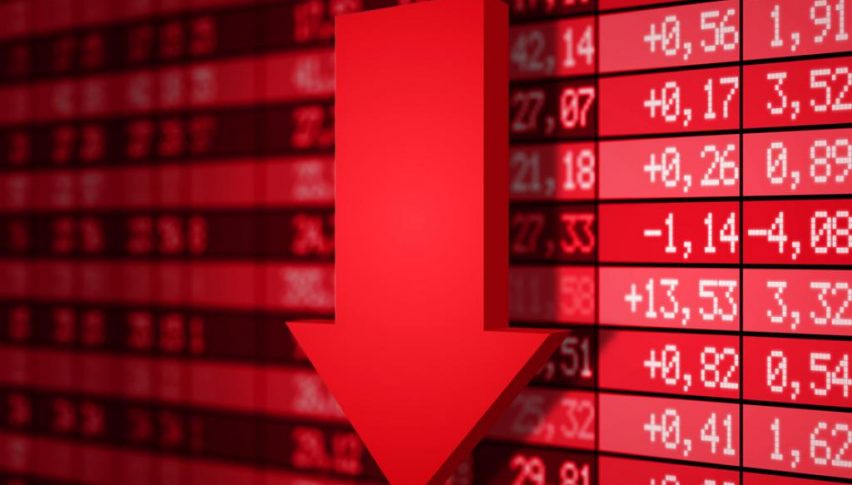 Profit-Taking The Theme In Today's Markets
The bears have waited all summer for today's sell-off in the American equities markets. At the midway point of the U.S. session, the DJIA DOW (-615), S&P 500 SPX (-100), and NASDAQ (-530) are all in steep intraday downtrends. The NASDAQ is leading the way south, off more than 4% on the session. In addition, gold and oil are both on the bear, losing 0.5% and 1.35% respectively.
By definition, capitulation occurs when investors favor cash instead of all other assets. This is what we are seeing today, with the USD gaining ground across the majors. The only real question is why. At this point, the answer remains a mystery. This morning's economic data wasn't too bad:
Event                                                                    Actual               Projected               Previous
Continuing Jobless Claims (August 21)          13.254M             14.000M                 14.492M
Initial Jobless Claims (August 28)                      881K                   950K                       1,011K
Non-Farm Productivity (Q2)                               10.1%                  7.5%                         7.3%
ISM Services PMI (August)                                   56.9                    57.0                          58.1
In short, the U.S. employment situation continues to improve and the services sector is holding firm. The big surprise from this group of figures is the outperformance of Non-Farm Productivity (Q2). Q2 was a brutal quarter due to the COVID-19 shutdowns ― today's Non-Farm Productivity release for Q2 suggests that things weren't as bad as they could have been.
No matter the data, the markets are on their heels today. The biggest loser has been the NASDAQ.
Markets Plunge, NASDAQ Futures Fall Beneath 12,000
With the markets in a freefall, September E-mini NASDAQ futures are trending south. Prices are back below 12,000 after a massive intraday plunge.
Overview: For most of 2020, the NASDAQ has led the U.S. equities markets. This is true again today, but in a bearish fashion. The key level to watch for the September E-mini NASDAQ is the 38% Current Wave Retracement (11990). All year long investors have bought the dip in the NASDAQ; if this is to happen again, it will likely be at or around the 11990 handle.