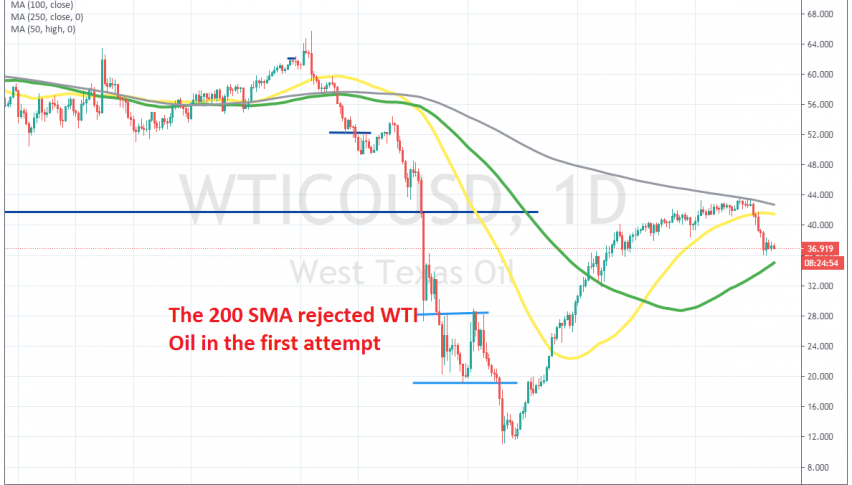 Crude Oil Is Pausing Between $36 and $38, Before the Next Move
Crude Oil turned really bullish since the middle of April, after the US Oil industry survived the crash to -$37.50 back then. The uptrend was quite strong until the last week of June and resistance levels were broken without any hesitation, with crude Oil climbing nearly $80 from the bottom.
The uptrend slowed considerably since the, with WTI crude climbing around $3 since then. That sort of price action showed clearly that the upside was quite limited for Oil, since gains had been getting smaller and smaller. At the end of August, the 200 SMA (grey) caught up and it turned into resistance immediately.
Buyers tried this moving average a few times, but failed to push above it, so they eventually gave up. Crude Oil turned lower on September 2, after forming some upside-down pins, which are reversing signals. The decline stretched further in the following days and US WTI fell to $36. We saw a small bounce above $38, but the price has been trading mostly sideways in the last week and the range is getting narrower.
The 100 SMA (green) is catching up, so it will likely turn into support for Oil. I favour a bounce from there, so we might open a buy signal when that moving average catches up, and close it at MAs, where we plan to reverse the trade and go short, but one step at the time. Let's see how the price reacts when the 100 SMA catches up.