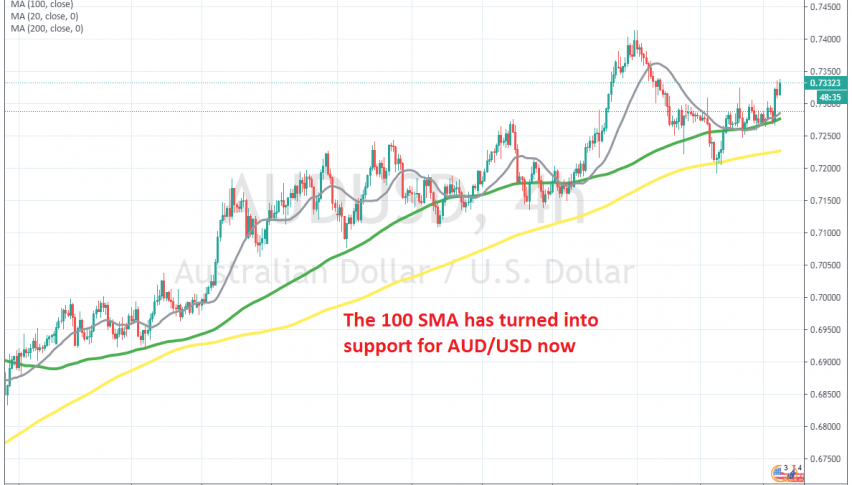 MAs and the RBA Keeping AUD/USD Bullish
AUD/USD has been bullish since March, climbing nearly 20 cents from the low at 0.55. Australia and New Zealand handled the coronavirus situation better than most other countries, with low numbers remaining quit low, which together with China recovering quickly helped the sentiment for this pair.
The USD weakness helped buyer as well during the last several months, but on September 1 we saw a reversal down and a 250 pip pullback lower. Although, the 200 SMA yellow turned into support for this pair. The price formed a small hammer candlestick at that moving average, which is a bullish reversing signal.
The price reversed and bounced higher form there, climbing above the 100 SMA, which seems to have turned into support now. This is a bullish signal, when higher MAs turn into support, indicating that buyers are forming a base higher. AUD/USD was sticking to this moving average yesterday, but jumped higher during the Asian session overnight, after the RBA sounded unable to do much, as the AUD strengthens.
They tried to sound dovish, but traders got the feeling that they can't do much if the Aussie keeps climbing higher. So, AUD/USD jumped higher and remains bullish now, with the USD still slipping lower. The RBA situation is one thing to keep in mind, because if they are running out of armour to scare buyers away, then buyers are going to keep coming and push the price higher.