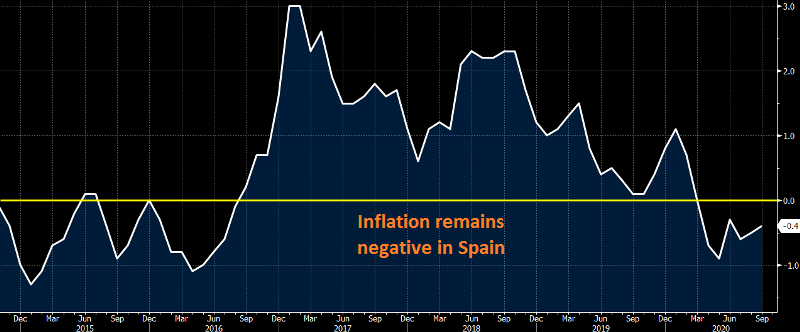 USD Weakness Keeping EUR/USD Afloat, But the Dive Will Come Soon, As Inflation Remains Weak
EUR/USD increased around 13 cents since the middle of March, climbing above 1.20 for a moment on September 1. EUR/USD has been making lower highs since then and we saw a dip to 1.16. But the buying pressure has also been strong, keeping this pair afloat above 1.17.
Although, that's due to the USD weakness and the uncertainty surrounding the US elections. So, once the situation clears across the Atlantic, EUR/USD will head down, because there's nothing to keep the Euro bullish. The economy has weakened again and inflation remains subdued, as the Spanish CPI report showed earlier today:
CPI +0.2% vs +0.2% m/m prelim
HICP -0.6% vs -0.6% y/y prelim
HICP +0.4% vs 0.0% m/m prelim
No change to the annual estimates relative to the initial release, so there isn't much to really digest here. This just reaffirms the narrative of softer inflation across the euro area last month.
The US consumer is softening as intertest rates go up, which is a factor for the USD retreat and for the FED to stop hikes
2 days ago