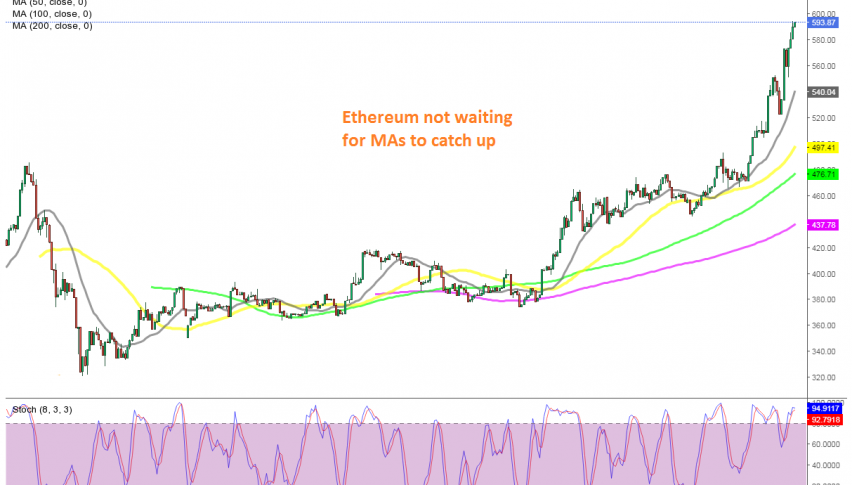 Ethereum Surges Close to $ 600, as the Launch of 2.0 Approaches
Cryptocurrencies have been surging higher this month, as uncertainty in the FX world increased. At the moment, everything is too risky to invest in, so the crypto market is turning into a safe haven for investors, hence the surge in most cryptos during the recent months, particularly in November.
BITCOIN is approaching the big $ 20,000 level, which will be the real test, while ETHEREUM is just about to break above the $ 600 level. Besides the demand for cryptos surging as safe havens, as investors try to get away from the uncertainty, Ethereum also has more reasons for being bullish.
The Ethereum 2.0 network is about to be launched. This is a major event for this cryptocurrency and the whole digital coin market. When the new network is launched, Eth2 is expected to improve the transaction capacity of the Ethereum blockchain network.
Besides that, it could also decrease the selling pressure on ETH over the long term, since nearly $ 300 million worth of ETH would be deposited into the Eth2 deposit contract address. The ETH 2.0 main-net will be launched when the number of Ethers staked in the Eth2 deposit contract address hits 524,288.
The ETH/USD was trading at around $ 380 at the beginning of the month, but the price has been surging since then, and now Ethereum is trading just below $ 600. That big level seems vulnerable now, and with the launch of ETH 2.0 coming up, the only place Ethereum is going is up! We will try to buy Ethereum if we see a pullback lower, probably to the 20 SMA (gray) on the H4 chart.