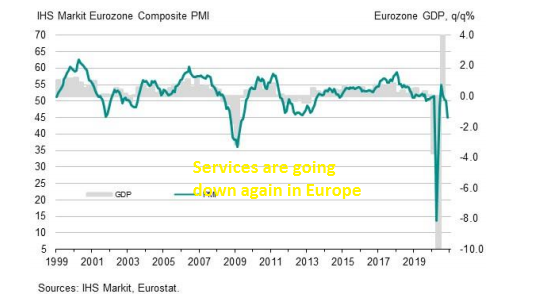 Services in Europe Dive Deeper into Recession
The manufacturing sector is holding well during this second wave of lockdowns in Europe. In the spring lockdowns, this sector fell into contraction, together with services, but now manufacturing activity is standing its ground, while services are diving further into recession. Eurozone services fell to 41.3 points, while in the UK, this sector went into contraction in October.
November flash services PMI 41.3 points vs 42.0 expected
October services were 46.9
Manufacturing PMI 53.6 points vs 53.3 expected
October manufacturing was 54.8
Composite PMI 45.1 points vs 45.6 expected
October composite PMI was 50.0 points
The tighter restrictions imposed across the region in recent weeks are leading the downturn in business activities, although manufacturing conditions are not experiencing the major decline we are seeing in services; but I must add that the bulk of it is being carried by Germany.
Markit notes that:
"The Eurozone economy has plunged back into a severe decline during November, amid renewed efforts to quash the rising tide of COVID-19 infections. The data adds to the likelihood that the Euro area will see another contraction in the GDP in the fourth quarter.

"The service sector has once again been the hardest hit, especially consumer-facing and hospitality businesses, though weakened demand has also taken a toll on manufacturing.

"The factory sector nevertheless remains something of a bright spot, with factories in Germany continuing to show especially encouraging resilience, led by a further surge in demand.

"Firms across both manufacturing and services have also become more optimistic about the year ahead, largely reflecting growing hopes that the recent encouraging news on vaccines will allow life to return to normal in the new year.

"Importantly, however, the further downturn of the economy signalled for the fourth quarter represents a major set-back to the region's health and it will extend the recovery period. After a 7.4% contraction of GDP in 2020, we are expecting only a 3.7% expansion in 2021."
GBP/USD is testing the 200 daily SMA for the second time, which held for the second time last Friday
1 month ago