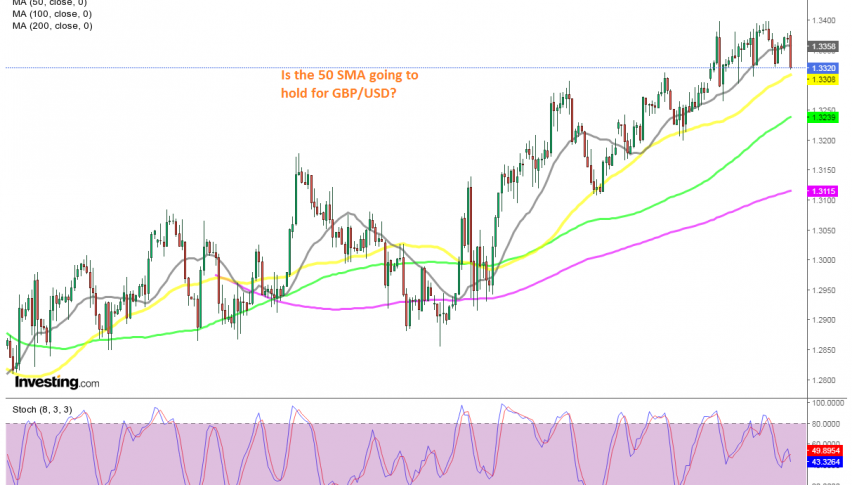 GBP/USD Heads Down for the 50 SMA, as Brexit Issues Resurface
The GBP has held a bearish bias for several years, since the Brexit vote in 2016, although it had a period of peace from March until September, due to coronavirus woes. In September the attention turned back to Brexit, which softened the GBP again, but in the past few weeks the comments have been promising, pointing to a possible trade deal soon.
As a result, the GBP/USD has been bullish, climbing around 7 cents from late September. Today though, we heard comments from the EU, which didn't sound too optimistic, and the GBP has turned bearish again.
Daily Express Brussels correspondent, Joe Barnes, tweets
EU diplomat says: 'The gaps on level playing field, governance and fisheries remain large. Michel Barnier wasn't able to to say at this stage whether a deal would be possible. Without London taking the necessary decisions quickly, reaching a deal will be all but impossible.'
This reads more like finger-pointing – the kind where a deal isn't really quite in the offing just yet. Either that, or it's just really, really good political theater. In any case, it doesn't look like we are going to be getting anything concrete in the next 24 to 36 hours at least.
 The
GBP/USD
turned lower, breaking below the 20 SMA (gray) on the H4 chart, and it is now heading for the 50 SMA (yellow). This moving average has provided support twice this month, so it might do so again. We will follow the price action to see if it holds. If it does, then we might open another buy forex signal down there, after the one we opened yesterday, which closed in profit overnight.