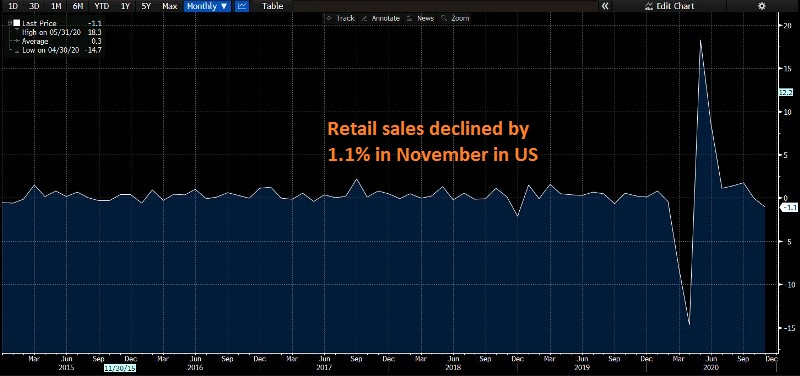 Retail Sales Turn Negative in the US, Despite Black Friday
The US economy rebounded nicely after the deep recession in Q2, and unlike Europe, it has kept the pace of the recovery until recently. But have been seeing some signs of weakness in recent weeks, and the retail sales for November were really soft. October was revised lower as well, showing that sales have declined over the last two months, and they are likely to decline further in December.
US advance retail sales for November 2020
Advance retail sales -1.1% vs. -0.3% estimated
Core retail sales ex autos -0.9% vs. +0.1% estimated
Retail sales ex auto and gas -0.8% vs. +0.1% estimated
Retail sales control group -0.5% vs. +0.2% estimated
All the main headlines are soft for the 2nd consecutive month.  The revisions are also coming in softer than last month's original releases. Prior month revised to:
Advance retail sales -0.1% vs. +0.3% originally reported
Ex auto and gas revised to -0.1% vs. +0.2% previously
Ex auto and gas revised to -0.1% vs. +0.2% previously
Control group revised to -0.1% vs. +0.1% previously
Overall, these numbers are a huge disappointment.  The data is a shot across the bow to those in Washington who are still working on a stimulus deal (although hopes are for the imminent approval of one). That may be the one glimmer of hope in what is otherwise a bad report across the board.
A $ 900 billion package is expected to be agreed upon on Capitol Hill. It would not include state and local relief nor liability provisions, which have held up prior attempts at agreeing on a stimulus package.  With claims rising (we will get another report tomorrow) and retail sales now having shown weakness across the board for two consecutive months, the question is: Is it enough?