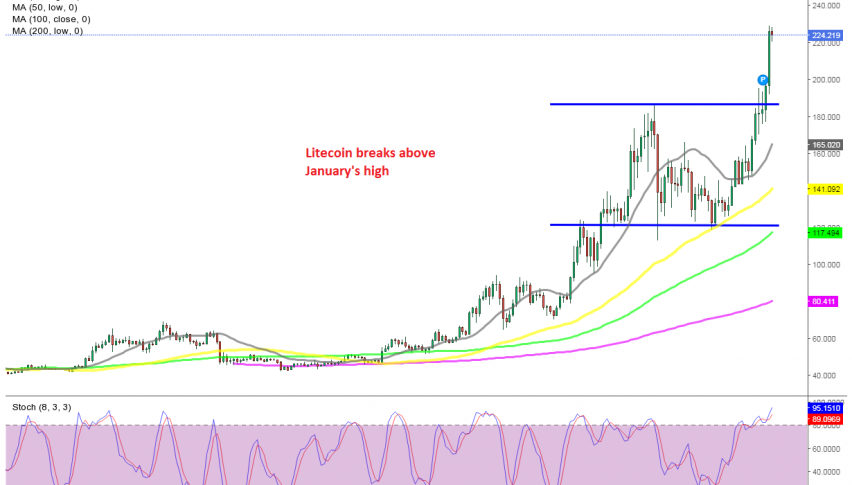 Litecoin Taking Its Turn in Pushing the Crypto Rally Up, As It Moves Above $ 200
BITCOIN initiated cryptocurrencies in the first surge in late 2017 and it did so again late in 2020. Although, this second surge doesn't seem exactly the same as the first one. First, it doesn't seem like there is an end to it any time soon, as digital currencies keep climbing higher. We are in the middle of February and the bullish trend is still going strong, unlike in the beginning of 2018 when we saw a strong bearish reversal and a crash afterwards, with cryptos giving back all the gains from that massive jump.
Second, this second surge is more of a fundamental move, rather than just a crypto craze, like the first one. With the world changing economically and politically, no fiat currency is safe and markets/traders are looking for new places to store funds safely. It seems like they have found that place in cryptocurrencies, which is the main reason why they have been surging, as the crypto  charts show.
Lastly, all cryptocurrencies are taking charge in leading this bullish trend higher one after another, as they keep pushing higher, not just Bitcoin. Litecoin was a bit delayed to join the crypto rally, as we explain deeper in our Litecoin price prediction for 2021. But it started catch up but the middle of December and by the first week of January it had gained more than $ 110, increasing above $ 185.
In the second week we saw a retreat down, but it held above $ 100 and a support area formed around $ 120. It bounced between that zone at the bottom and the 20 SMA (gray) at the top for a while, but once the 50 SMA (yellow) caught up with the price on the daily chart, the bullish momentum resumed again.
The 20 daily SMA turned into support while the previous high was acting as resistance for some time, with Litecoin forming some doji candlesticks up there, which are bearish reversing signals after the bullish move. But, the reversal didn't come and Litecoin pushed above January's highs, approaching $ 130. Litecoin jumped the most yesterday, while most of the main cryptos traded sideways.
The demand has increased, as Grayscale during the past week added over 69,000 LTC to its holdings, supporting the bullish price action. So, the bullish momentum continues for cryptocurrencies and we will try to go long on Litecoin probably, but we have to see a retrace lower first in order to go long.