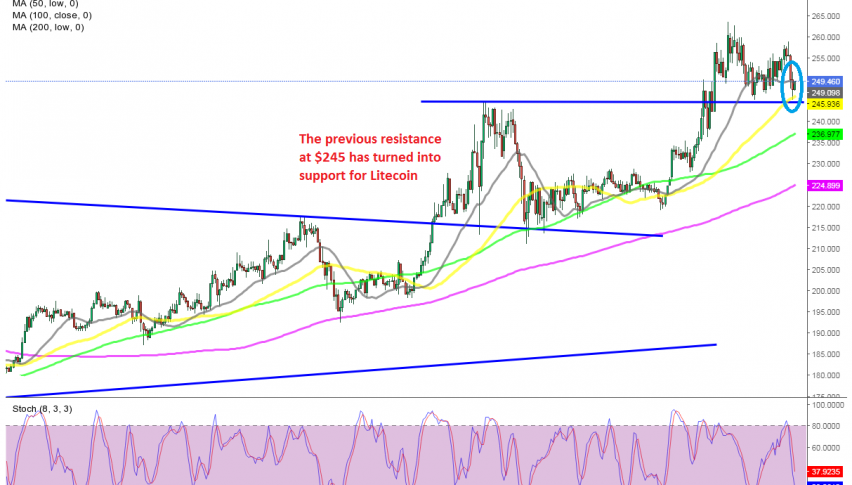 Litecoin Continues to be Supported by MAs, After the Retreat in Cryptos
Cryptocurrencies continue to be very volatile, as we have mentioned in our recent forecasts for digital currencies. We have seen some really strong bullish moves in the last several months, which have been followed by some strong berish moves, although the pressure remains to the upside nonetheless.
Cryptocurrencies continue to make new highs, with Ethereum pushing above $2,200 earlier today for the first time ever. LITECOIN on the other hand, has turned quite bullish too in recent days, pushing above $265 yesterday, which was a new record high, as the bullish trend that we mentioned on our Litecoin 2021 forecast keeps going.
The Retrace Down Seems to Be Over
But as we mentioned, volatility has increased in both directions and the pullbacks are also quite strong. In the last few hours, we have seen another decent pullback, which has taken Litecoin nearly $1,500 pips lower, from below $260 to around $245.
But, last week's high at that area turned into support, which was aided by the 50 SMA (yellow) as well on the H1 chart. The 100 SMA (green) and the 200 SMA (purple) have been the most important moving averages for support in Litecoin, but now it seems like the 50 SMA is doing that job.
Litecoin is almost oversold on this timeframe chart now and the price is bouncing off the 50 SMA, the retrace might be over already. We are already long on this altcoin and are holding on to our trade, as the bullish momentum continues.