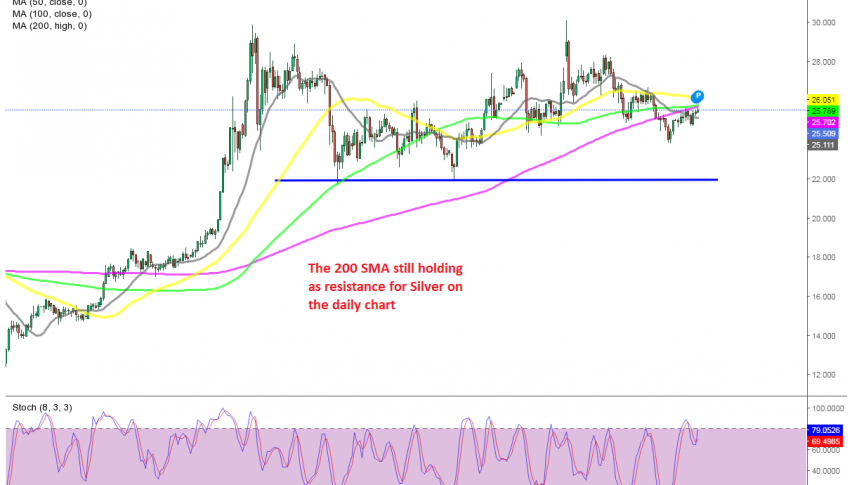 Will Silver Reverse Down From the Moving Averages?
Silver has been quite uncertain since August last year. Traditional safe havens have lost their appeal, as traders turn to cryptocurrencies now for safety, given that no fiat currency is safe any more, due to the political, social and of course economic changes globally. Central banks and governments are throwing all they have, which makes the near/mid-term future for currencies uncertain as well.
Anyway, Gold turned bearish in August and has clearly entered a bearish trend, apar from this month when we are seeing a bullish retrace higher. But, the main trend is still down. Silver on the other hand, has been holding better than Gold.
In fact, we can't call SILVER bearish, since it has been trading sideways since August and it even made a new high for the last decade, as it moved above $30 when the Reddit crowd of WallStreetBets turned to Silver, after GameStop.
The price was slipping lower since then until the beginning of this month, when it started retracing higher. Silver reached the 200 SMA (purple) earlier this month, as shown on the daily chart above, while the stochastic indicator became overbought.
Going Short on Silver
So we decided to open a sell forex signal. But yesterday buyers gave it another try to the upside, although the 200 SMA is still holding as resistance. The 100 SMA (green) has also caught up and is adding to the resistance.
The retrace higher is compete on this time-frame and we hope that sellers come back in, resuming the downtrend, since GOLD is showing signs of weakness in the last few days, being unable to make new highs. But, let's see what comes next. On the h4 chart the 200 SMA is doing a good job as resistance too, so let's hope that buyers will give up now.