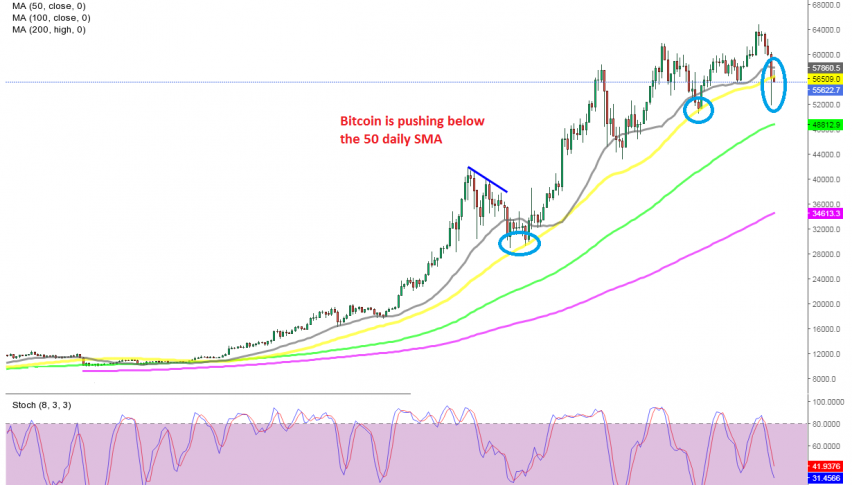 Bitcoin Breaks Below the 50 Daily SMA, As Sellers Remain in Charge in Cryptos
Bitcoin gained incredible momentum since the middle of December when it was trading below $20,000. It topped a $65,000 arly last week, as the bullish momentum continued further, but it started reversing just below that big round level and has been declining since then.
It started retreating down slowly initially, but over the weekend the decline accelerated and the whole cryptocurrency market crashed lower, with Bitcoin ending up tat $51,500s. Other cryptos such as LITECOIN and Ethereum lost even more value.
There were several reasons priced in for this decline, such as the electrical blackout in parts of China where Bitcoins are usually mined, a $13 billion withdrawal in crypto funds from investors as the retreat got underway and the rhetoric from the US regulatory authorities regarding cryptos.
Yesterday we saw th4e price retreat higher, but today the decline has resumed again it seems. We closed the long term buy Ethereum signal for more than 4,000 pips, since sellers are in control now and might try to buy again lower.
Bitcoin is also bearish today, having broken below the 50 SMA (yellow) on the daily chart and the momentum is sill bearish. We will hold on for now, watching the price actions and might go long when there are signs of the decline ending and the price reversing higher for the cryptocurrency market.