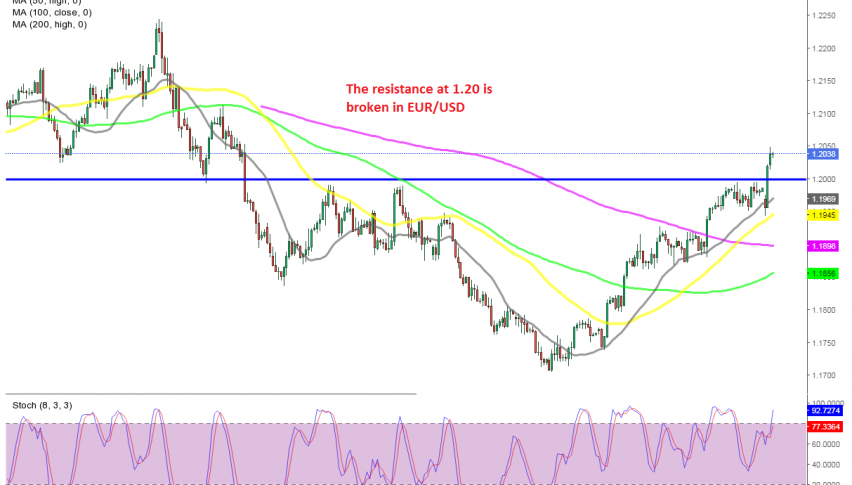 EUR/USD Breaks Above $1.20
EUR/USD used to be quite bullish last year, climbing around 15 cents from March until January this year, with the USD being on a strong bearish trend. Although, the bullish trend ended early this year at 1.2350s and since then EUR/USD has been bearish.
The decline was slow at first, but it picked up speed after in the last week of February, taking this pair down to 1.17 by the end of March. In April, we have seen a reversal and a move higher to 1.20, where we decided to open a long term sell forex signal.
The retrace was complete on the H4 chart and the daily time-frame as well, while buyers were finding it hard top push above that big round level, which has acted as support and resistance before. EUR/USD opened with a bearish gap last night and continued lower initially, but eventually it bounced off the 50 SMA (yellow) on the H4 chart.
Now this pair is around 100 pips higher and well above 1.20, which means that a big obstacle for buyers has been taken out. Although, we are not seeing a follow through right now, which suggests that buyers might have flushed out some weak stops above 1.20 and now we might see a reversal down instead.  On the daily chart the 100 SMA remains ready to provide resistance above at 1.2050. S0, we are holding on to our sell EUR/USD signal, hoping for a reversal back down from around here.