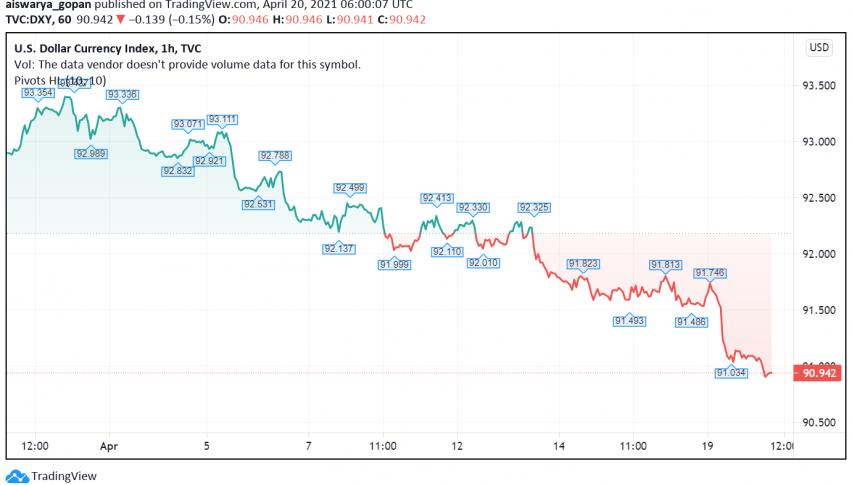 US Dollar Still Weak While Euro and Sterling Strengthen on Economic Recovery Hopes
The US dollar continues to trade weak, holding close to the lowest level seen since six weeks against its major rivals, after US Treasury yields slid lower from their 14-month peak and dented the appeal of the reserve currency among investors. At the time of writing, the US dollar index DXY is trading around 90.94.
On the other hand, the Euro is enjoying a bit of a bullish moment, soaring to a six week high during the previous session before easing slightly lower. The weakness in the dollar also supported an uptrend in the Sterling, which strengthened by as much as 1% in overnight trading on Monday – the second highest daily gain seen so far in 2021.
The benchmark 10-year US Treasury yields have weakened considerably from their highs after markets were convinced that the Fed is likely to remain dovish for longer despite rapid economic recovery. This has caused the US dollar index to lose as much 2.5% from the highest levels touched in March.
While optimism about the US economy posting a faster than expected recovery had previously driven gains in the greenback through the end of the previous quarter, other economies are soon catching up, helping their respective currencies also make gains in the market. On Monday, the EU announced that it had obtained an additional 100 million doses of Pfizer's COVID-19 vaccine, raising hopes for a swift rebound from the effects of the third wave of the pandemic.