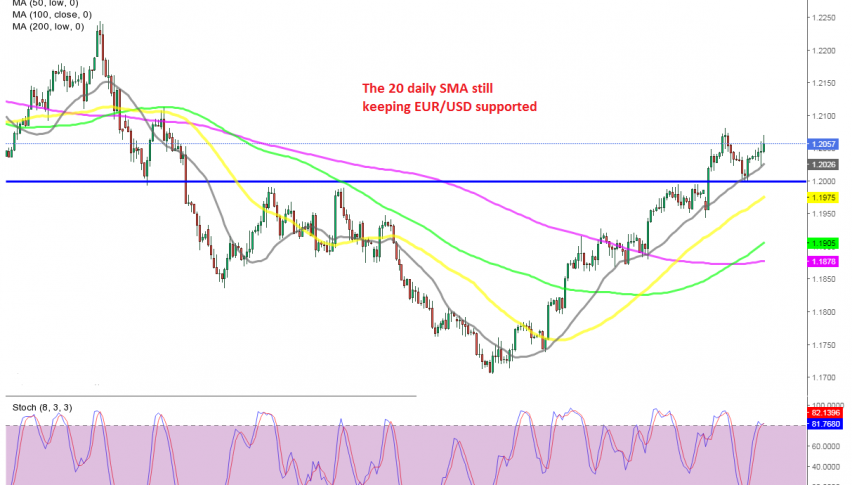 EUR/USD Remains Bullish, Despite the US Economy Booming
EUR/USD turned bearish in the first week of January this year after being bullish since March last year, as the USD turned bearish. But, the decline in the USD stopped in January and EUR/USD turned bearish, losing around 650 cents as it fell to 1.70.
The situation reversed this month; at first this bullish move looked like a retrace before the decline resumed again, but EUR/USD climbed above 1.20 and is still crawling higher. The 20 SMA (gray) is acting as support on the H4 chart, where we decided to open a buy signal yesterday after the retreat.
That signal closed in profit today as the price reversed higher again. The unemployment claims declined again last week, as the report released a while ago showed, confirming the great shape of the US economy. Although, EUR/USD still remains supported by the 20 SMA. Below is the US employment report:
Initial jobless claims and continuing claims for the current week
Initial jobless claims 547K versus 610K estimate. Lowest level cents March 14, 2020
Prior week revised to 586K from 576K previously reported
Continuing claims 3,674K  vs last week 3,708K versus 3,731K previously reported. The continuing claims is a loss since March 21, 2020
Four-week moving average continuing claims 3713K vs 3754K (revised)
During the week ending April 3, 51 states reported 7,309,604 continued weekly claims for Pandemic Unemployment Assistance benefits and 51 states reported 5,605,935 continued claims for Pandemic Emergency Unemployment Compensation benefits
The largest increases in initial claims for the week ending April 10 were in New York (+16,028), Florida (+9,377), Alabama (+5,517), Washington (+5,380), and Georgia (+4,759),
The largest decreases were in California (-76,082), Virginia (-23,492), Ohio (-21,831), Texas (-17,436), and Kentucky (-15,424).
Good data for the 2nd consecutive week as the reopening in the US continues.  The claims numbers before the pandemic hit were around 215K area. So the data is better but still elevated. The last time the pre-pandemic number was above 547 was on the week of September 25, 2009 when it was at 554K.  That was down from a cycle high of 674K during the week of March 27, 2009. The high during the pandemic reached 6149.0K on April 3, 2020.