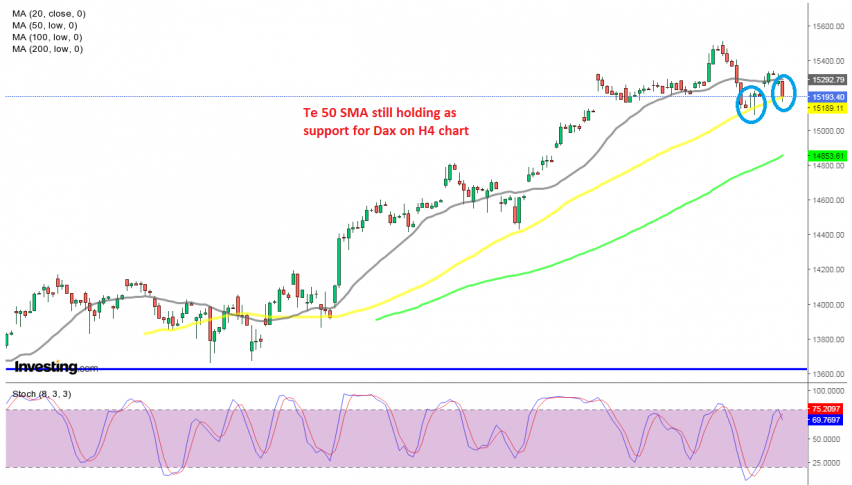 Dax30 Retreats Down to the 50 SMA Again, With the ECB Divided on the Extension of the €1.85 Trillion Bill
Stock market resemble somewhat the cryptocurrency market, since they are both bullish markets overall, with dips lower being met by sellers, pushing the price ever higher. Stocks are not as volatile as cryptos though, but they still have their ups and downs.
Dax30 Technical Analysis
Last week they pushed to new highs, with the German index Dax30 climbing to 15,500 point, but this week we have turned bearish, retreating lower. Although on Wednesday, we saw a bounce higher, as the 50 SMA turned into support on the H4 chart.
The price formed a couple of pin/hammer candlesticks which are bullish reversing signals after the pullback and Dax jumped around 350 points higher. But, today we are seeing another bearish move on stock markets, as certain ECB (European Central Bank) policymakers aw pushing for the coronavirus PEPP bill to be cut short if the economy bounces back hard in H2 of this year.
So, Dax has turned bearish again today but the 50 SMA (yellow) continues to hold on the H4 chart as support. It has been pierced for a moment, but the price has bounced back up, so let's hope that he bullish trend continues here, since we have a long term buy signal.
ECB PEPP Decision
Even though the ECB meeting yesterday was a calm one, suggesting that the €1.85 trillion bill will be executed in full, some ECB members expect a tough decision in June. That's when the next round of economic projections data will be released, So they will decide over whether to start easing PEPP purchases.
Talks are expected to be much more complicated and it could be heated with some policymakers ready to argue that PEPP purchases should start to be scaled back as soon as Q3 as the euro area economy is likely to stage a strong recovery in 2H 2021.
Meanwhile, there is word that other members aren't too comfortable with that as they would prefer a more cautious approach that doesn't commit the ECB to staying within the €1.85 trillion envelope, in case the economy remains weak.