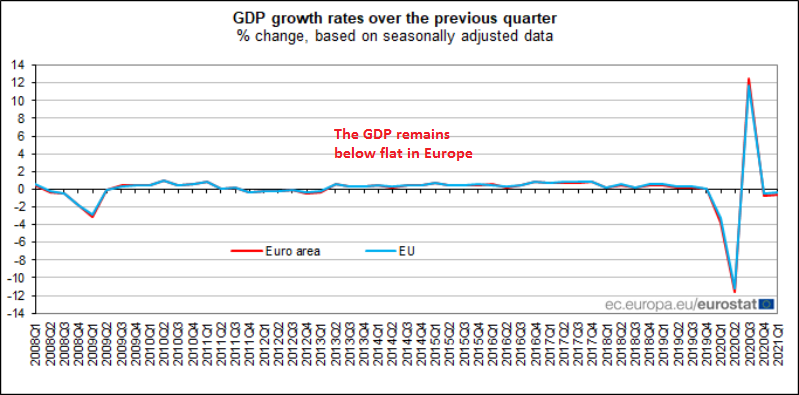 Europe Back in Recession, As the GDP Contracts for the 2nd Quarter
The Eurozone economy went through a deep recession in Q1 and Q2 last year during the first wave of lock-downs due to the coronavirus. In Q3 we saw a decent bounce as the continent reopened, but restrictions returned again in Q4 and the economy took a dive, contracting by 0.7%. Today's report showed another contraction in Q1 of this year, so the second recession in less than a year is official.
Eurozone Q1 Preliminary GDP Report
Q1 preliminary GDP QoQ -0.6% vs -0.8% expected
Q4 GDP was -0.7%
GDP YoY -1.8% vs -2.0% expected
Prior GDP YoY was -4.9%
A tad better than estimates as this reaffirms some added resilience seen in the Eurozone economy during Q1. Nonetheless, it still confirms a double-dip recession in the region but the positive takeaway is that things aren't as bad as feared and with the vaccine rollout gathering pace, hopes for a strong rebound in 2H 2021 may yet materialise.
Eurozone April Prelim CPI Inflation Report
April preliminary CPI YoY +1.6% vs +1.6% expected
March CPI was +1.3%
Core CPI +0.8% vs +0.8% expected
March core CPI was +0.9%
The jump in the headline reading owes to base effect adjustments due to the crash in energy prices in April last year due to the pandemic impact at the time. However, the core reading shows that inflation pressures aren't really going anywhere and that won't convince the ECB to change its current policy stance whatsoever.
Eurozone March Unemployment Rate
March unemployment rate 8.1% vs 8.3% expected
Prior 8.3%; revised to 8.2%
The jobless rate in the euro area fell last month but it is tough to extrapolate much from the data considering that things are still obscured by furlough programs in the region.