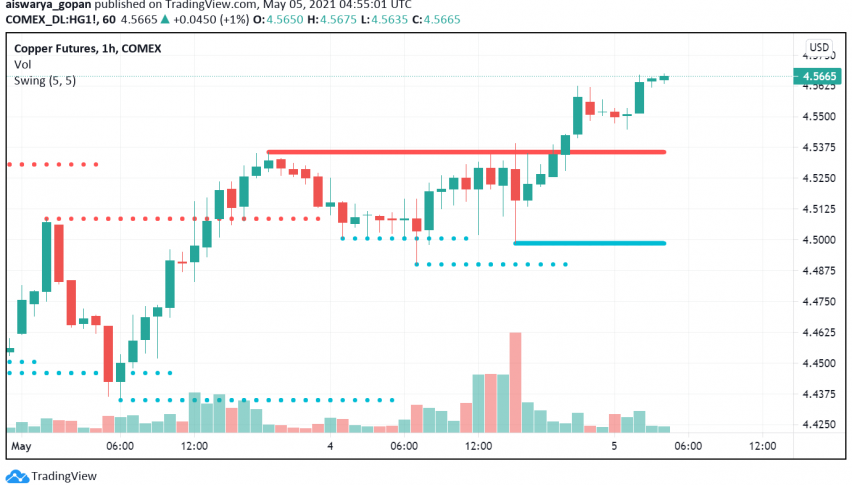 Copper Touches Record High as Economic Recovery Expected to Drive Up Demand
Popular industrial metal copper is trading bullish over hopes of rapid economic recovery worldwide in the wake of the ongoing coronavirus pandemic, with prices for the three-month copper crossing the key $10,000 level on the London Metal Exchange. At the time of writing, COPPER is trading at around $4.56.
Recent manufacturing PMI data releases indicating rapid rebound in factory activity across key markets worldwide have raised hopes for an increase in demand in the coming months. While the US economy continues to push ahead towards recovery at a faster than anticipated pace, the British economy is also slated to outpace its growth after reopening recently.
A recent report by leading investment bank Goldman Sachs forecasts that as global economies pledge to tackle climate change, the demand for copper could skyrocket in the coming years, in line with our forecast for this industrial metal. The industrial metal is a key component required to manufacture technology that can capture, store and transport renewable energy as the world looks beyond coal and oil as a way to cut down emissions and carbon footprints.
Copper is one of the most cost effective materials that can conduct energy and can be considered one of the leading 'green metals'. By the mid of the current decade, Goldman Sachs expects global demand for the metal to match and surpass the record demand China experienced during the 2000s.