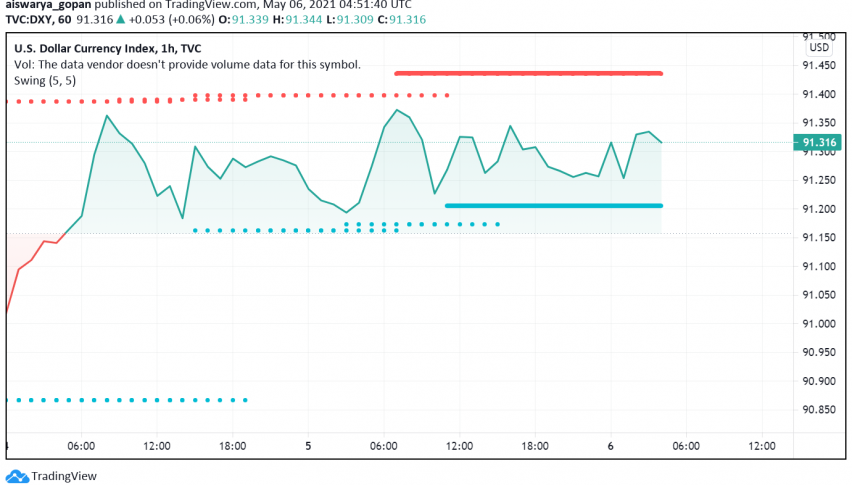 US Dollar Enjoys Moment of Strength Ahead of April's NFP Report Releas
The US dollar is trading close to the highest level seen in two weeks early on Thursday, undergoing somewhat of a consolidation as markets adopt a 'wait and watch' approach before the release of the much awaited non-farm payrolls report for April. At the time of writing, the US dollar index DXY is trading around 91.31.
The latest NFP figures are of special interest as a stronger than forecast reading could spur expectations of the Fed hiking interest rates sooner than previously anticipated. Earlier this week, US Treasury Secretary Janet Yellen alluded to the possibility of a faster rate hike in case inflation heats up as the economy recovers, which has heightened investors' intrigue on how the Fed will respond to a better than expected employment report.
The US dollar is also enjoying support from the release of the ADP employment report in the previous session, which showed that private payrolls across the US increased at the fastest pace in seven months during April. Pent-up demand among consumers upon reopening of the economy encouraged firms to hike up hiring activity, further supporting hopes for rapid economic recovery.
According to the ADP National Employment Report which released on Wednesday, private payrolls saw an increase of 742k jobs during April, higher than the 565k increase seen in the previous month. Although, the reading came in slightly below economists' forecast, which was for an addition of around 800k jobs in the private sector instead.