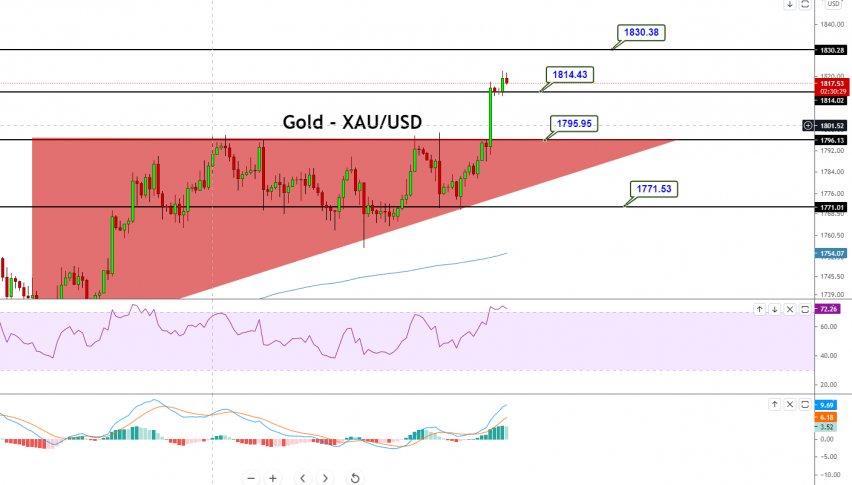 Gold Price Forecast – Ascending Triangle Breakout, Brace for Buying!
During Friday's Asian trading session, the safe haven metal gold succeeded in breaking above the $1,800 mark, hitting the highest levels since February. However, the bullish bias surrounding the bullion prices was mainly sponsored by the positive U.S. economic data, which pushed the benchmark U.S. 10-year Treasury yield to a two-week low and U.S. dollar one-week low. In simple words, the bearish bias surrounding the U.S. dollar was seen as one of the critical factors that lend some additional support to the dollar-denominated commodity. Moreover, the intensifying US-China tussle and the escalating coronavirus (COVID-19) woes also lend additional support to the safe haven GOLD .
Conversely, the upbeat market sentiment, backed by the combination of factors, becomes one of the key factors that kept the lid on any additional gains in the safe haven metal. In the meantime, the gains were also capped by the reports suggesting that the U.S. and the European Union's (E.U.) are up to support the coronavirus (COVID-19) vaccine patents. At the particular time, the bullion price is trading at 1,819.39 and consolidating in the range between 1,812.94 and 1,822.34. Looking forward, the traders seem cautious to place any strong position ahead of the key U.S. data, which is due to be released later in the day.