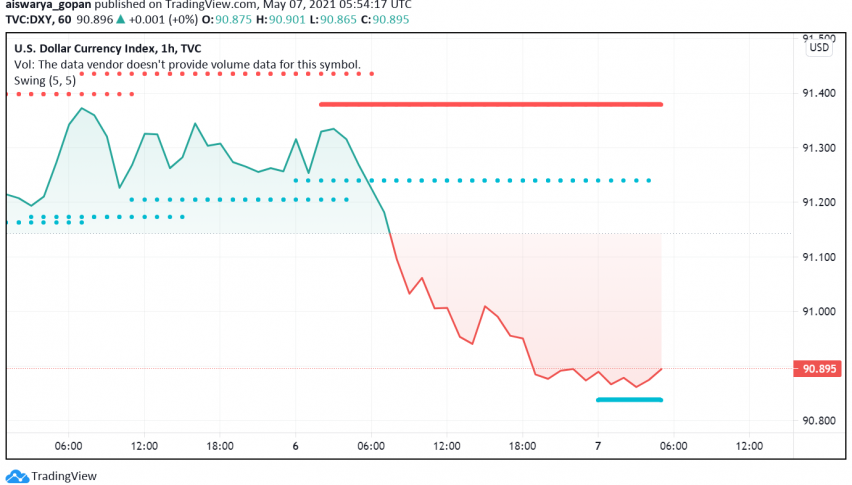 US Dollar Holds Close to This Week's Lows as Markets Await NFP Data
Early on Friday, the US dollar is trading showing signs of strain ahead of the release of the non-farm payrolls report for the month of April, due later in the day as traders await confirmation about the pace of economic recovery in the US. At the time of writing, the US dollar index DXY is trading around 90.89.
Over the previous session, the greenback lost around 0.4% of its value against its major peers, holding close to the lowest level seen so far this week. Economists expect the NFP report to reveal an addition of around 978k jobs over the past month, which could reaffirm expectations of rapid economic recovery and possibly support the sentiment among markets for the Fed to hike rates sooner than anticipated.
The US dollar failed to receive support from the latest weekly jobless claims data that came out on Thursday, despite the report revealing a drop in new claims for unemployment benefits falling below 500k for the first time since the beginning of the pandemic. Economists have forecast a strong rebound in the US, powered by the rapid rollout of the COVID-19 vaccine which could boost consumer sentiment as the economy reopens, boosting the labor market and possibly driving inflation higher as well.
Even though Fed officials have repeatedly downplayed a potential overheating of the economy as it emerges from the coronavirus crisis, hopes were raised for a rate hike over US Treasury Secretary Janet Yellen's recent comments. This drove up volatility in the US dollar and keeps the focus on the NFP report among investors.