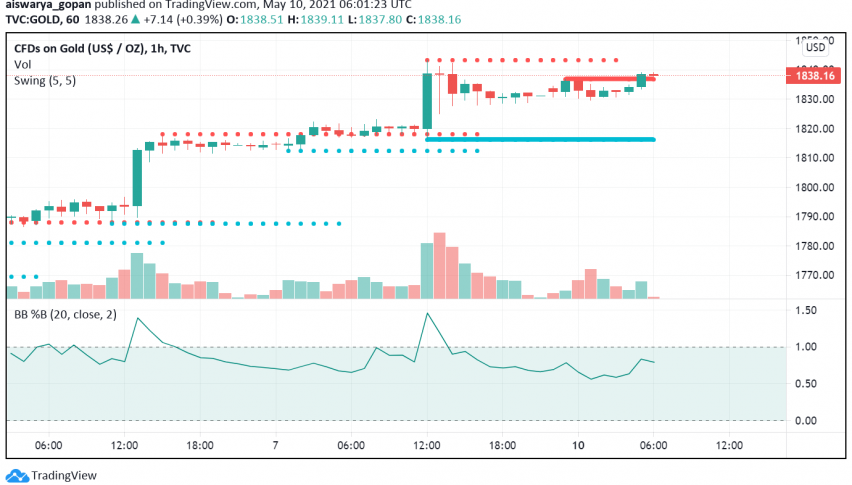 Gold Trades Close to Three-Month Highs as US Job Growth Slows Down
Gold is trading close to the highest level seen in three months early on Monday following the release of an unexpectedly low US jobs report late last week, which serves to not only keep the US dollar weak but supports the safe haven appeal of the precious metal. At the time of writing, GOLD is trading at a little above $1,838.
Shortage of available workers and supply chain disruptions abruptly slowed down hiring activity across the US despite the economy reopening and enjoying support from an uptick in the COVID-19 vaccine rollout. Against expectations of close to a million jobs being added, only 266k jobs were added through the month of April, raising concerns that the pandemic still weighs heavily on the US economy despite emerging signs of progress.
This drove gold prices higher as it increased the possibility of the Fed remaining dovish for a longer period of time. Earlier last week, there were some hopes that a strong jobs report could potentially convince the Fed to consider hiking interest rates sooner than previously planned, but the disappointing data is likely to keep the monetary easing intact and further support the yellow metal's safe haven status.
However, gold is experiencing some pressure from a risk-on sentiment in global financial markets, which has sent stock markets rising higher in the Asian session and has also driven crude oil prices higher. In addition, latest reports indicate that the demand for physical gold across India – one the most important markets for bullion, registered a steep decline owing to COVID-19 related restrictions, further weighing on the precious metal.