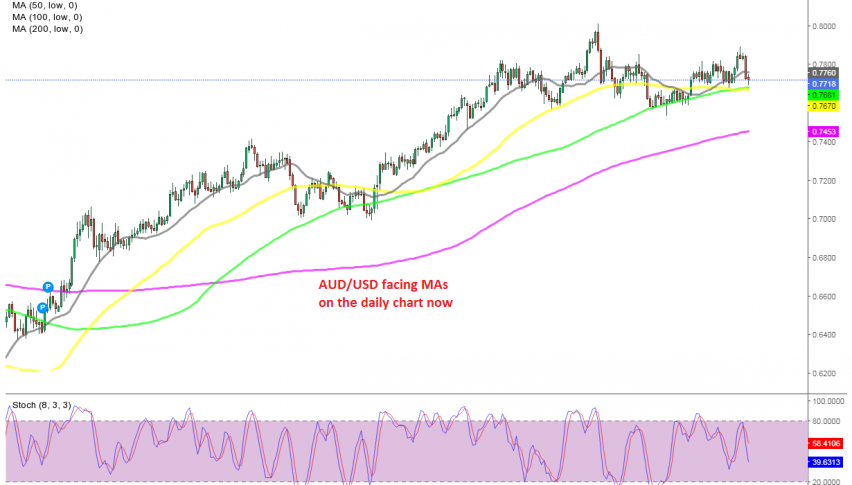 Decisive Time for AUD/USD, After the Decline in US Jobless Claims
The USD has been indecisive in recent months. It used to be in a strong bearish trend last year, but it started to gain ground in Q1 of this year. In April we saw another strong bearish move, but it seems like it might have ended as well.
AUD/USD tried to resume the larger bullish trend last month, bu it has reversed down again this week. This is a sign that sellers are getting heated up, although they are facing the 50 SMA (yellow) and the 100 SMA (green) on the daily chart.
The unemployment claims report from the US today was positive, showing another decline and yesterday's CPI inflation report was also positive, as CPI YoY jumped to 4.2%. So, USD traders ae trying to decide now and
is also deciding above the MAs at the moment.
If the FED starts acknowledging the higher inflation seriously, then the trend will turn bearish here, but until then there will be uncertainty in all USD pairs, including AUD/USD. Below is the US unemployment claims report.
Weekly US Initial Jobless Claims Report
Prior week initially reported at 498K revised to 507K
Initial jobless claims 473K. The lowest reading since the start of the pandemic
4-week moving average of initial jobs claims 534K versus last week's 562.25K (revised)
Continuing claims 3655K vs 3650K estimate.  Prior week revised to 3700K versus 3690K previously reported
4-week moving average of continuing claims 3665K vs 3678.25K last week.
During the week ending April 24, 51 states reported 7,283,703 continued weekly claims for Pandemic Unemployment Assistance benefits and 51 states reported 5,265,193 continued claims for Pandemic Emergency Unemployment Compensation benefits.
The largest increases in initial claims for the week ending May 1 were in Kentucky (+4,714), New Jersey (+2,002), Delaware (+1,294), Vermont (+1,142), and Puerto Rico (+824),
The largest decreases were in Virginia (-25,125), New York (-9,533), Florida (-8,252), California (-7,840), and Oklahoma (-6,392).
The claims are the lowest since March 14, 2020 when it was at 256K.  Nevertheless the number is still at relatively high levels historically.