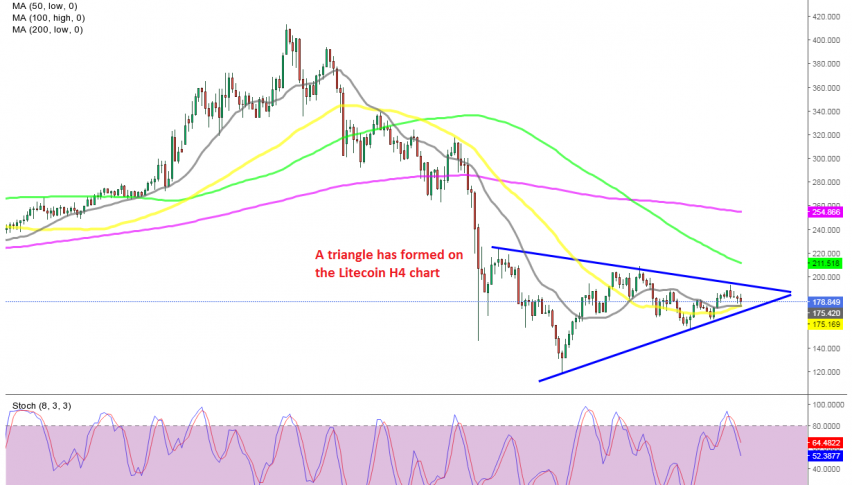 Litecoin Remains Supported, BCH Seems Uncertain Between MAs
The cryptocurrency market is not out of the woods yet. It has managed to stop the crash, which took most cryptos more than 50% lower, but after the initial jump, this market still seems uncertain. After the first leap following the crash, we haven't seen any further buying pressure.
The highs have been getting lower, as can be seen in the Litecoin chart above, and the lows are getting higher. So, a triangle is forming in most cryptocurrencies, and Litecoin is heading towards the tip of it, which means that a breakout is expected soon, in any direction.
However, moving averages have been acting as support for the LTC/USD today, particularly the 20 SMA (gray) and the 50 SMA (yellow). The ascending trendline, which connects the lows, is standing just below, so we might see a bounce soon.
Bitcoin Cash looks even more uncertain, as it remains in the middle of the two moving averages. The 200 SMA (purple) provided support during the crash, despite being pierced twice, while the 50 SMA (yellow) and the 100 SMA (green) acted as resistance at the top.
The BCH/USD is bouncing between moving averages
Now, the BCH/USD looks like a lost puppy, uncertain where to go next, although, a breakout of the triangle in Litecoin should give a hint as to which direction the crypto market might go next. So we are following the price action in Litecoin and Bitcoin closely.