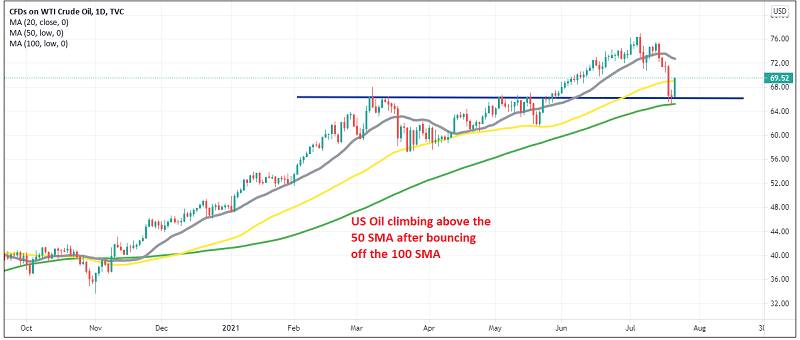 Crude Oil Bounces Off the 100 Daily SMA As We Predicted, Following the Biggest Decline Since the 2020 Crash
Crude Oil has been really bearish for more than a year, since the crash in March/April last year, with the US WTI crude reversing from $-37 and increasing to almost $77. But, in the past week or so we saw a bullish reversal and a major pullback, which sent the price down more than $10.
The 50 daily SMA (yellow) which had been providing support during March, April and May was broken without much resistance on Monday, when US WTI crude Oil lost more than $6 during that day. The growing concerns about the new coronavirus variants which keep coming strangely enough and increased restrictions, weighed on Oil prices, sending it down to $65 lows.
But, the 100 SMA (green) held as support yesterday. The daily candlestick closed as a doji which is a bullish reversing signal after the decline and today we are seeing a bullish reversal indeed. Crude Oil has bounced nearly $2.50 today alone and more than $3 off the lows yesterday, which we predicted yesterday.
US WTI Oil Fundamentals
The flash pullback lower since the start of the month is arguably a "healthy" one amid the unrelenting push higher this year Since it refreshes the trend. The OPEC+ agreement was a convenient excuse for profit-taking in that sense and a good retracement for buyers to go long.
Oil fundamentals are still strong and this bounce may prove to be more lasting if risk sentiment can keep up as well, since stock markets have turned bullish too. A flush lower towards the May lows @ $61.58-70 may attract more buyers but amid the key levels above, it is also a solid area for buyers to step back in. In fact, Goldman Sachs was out with a note yesterday that took down its Q3 UK Brent Oil average forecast to $75, which is bullish. The fourth quarter forecast is $80.