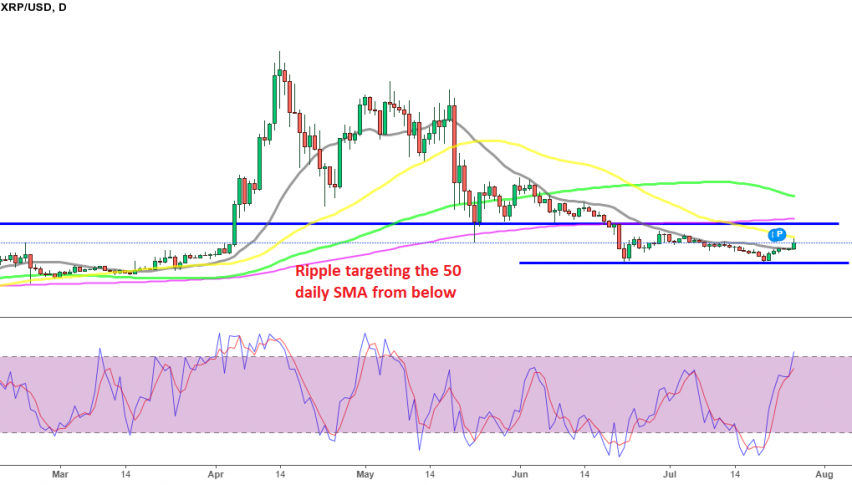 Ripple XRP Fails on the First Bullish Attempt at the 50 SMA, Shiba Inu Doesn't Show Any Signs of Life
Ripple coin showed signs of weakness when it failed to make new highs in May, while many other main cryptocurrencies were still pushing higher. Eventually the crash came, ending this crypto down to $0.65 in May, from the highs of $1.97 in April.
But the decline didn't stop there and sellers remained in charge for the next two months, as they kept pushing lower to $0.51, which was the low in June and again this month. During this time, the 20 SMA (gray) was pushing the price down, acting as resistance during retraces up, although now it seems like the situation is changing.
The price bounced off the support area around $0.51, and after finding resistance at the 20 SMA for several days, which was a bit intense for XRP/USD buyers, they finally pushed above that moving average. But they failed on the first attempt today, at the 50 SMA (yellow), at around $0.70.
However, the price didn't retreat down too much after the rejection by the 50 SMA, so buyers still remain in charge and that moving average is likely to break soon, if Bitcoin pushes above $40,000. There's another resistance level around $0.80, where the 200 SMA (purple) stands, but first let's see if RIPPLE coin can push above the 50 SMA, since we are long on this cryptocurrency.
Shiba Inu Analysis – SHIB/USD Daily Chart
Shiba Inu coin remains on a descending wedge
Shiba Inu on the other hand, still remains pretty weak. It continues to make lower highs and it is still stuck below all moving averages, which have just shown up for most crypto brokers, since this is a new coin. So, the sellers are still in control in SHIB/USD, at a time when most cryptocurrencies have turned quite bullish, so when the crypto market turns bearish, chances are that Shiba Inu will get back to the support level again and probably make new lows this time.