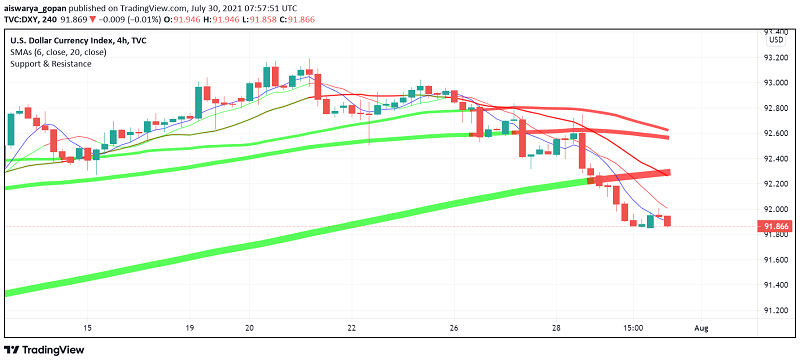 US Dollar Set to End Week, Month Lower After Fed Plays Down Hawkish Mood
More bad news coming in for the US dollar as it looks all set to post its worst monthly performance since May ever since the latest FOMC meeting earlier this month played down any hopes for a hawkish tilt anytime soon. At the time of writing, the US dollar index DXY is trading around 91.86.
After rallying for the past several weeks following June's FOMC when policymakers sounded hopeful about tapering stimulus measures and considering rate hikes sooner than planned, the US dollar is set to post a weekly loss of around 1% and a monthly loss of 0.5% so far against its key rivals. The weakness was driven by Fed Chair Powell's dovish comments following July's FOMC when he reiterated that the labor market had to make more of a recovery before he could consider a rate hike.
This has dampened expectations that the Fed could taper its asset purchases anytime soon, especially after the resurgence of fresh COVID-19 cases across the country due to the highly contagious delta variant. The spike in cases has heightened uncertainties about the economic outlook once again, although Fed officials remain optimistic about the pace of recovery underway at present.
The US dollar came under further pressure on the release of the GDP data in the previous session. In the second quarter of the year, the world's most powerful economy posted a 6.5% YoY growth, coming in below economists' forecast for an 8.5% growth instead.
The weakness in the dollar has helped other major currencies rebound, with EUR/USD rising back above the $1.18 level and trading close to the highest level seen since a month. In addition, the risk-sensitive commodity currencies AUD and NZD also strengthened to trade close to two-week highs against the reserve currency.