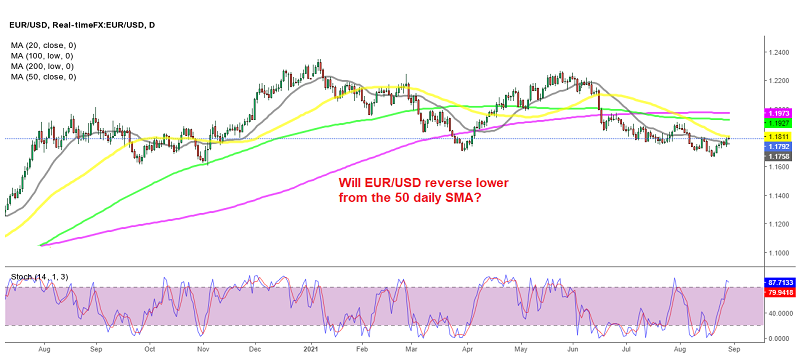 Has EUR/USD Reached the Top Before It Resumes the Bearish Trend?
EUR/USD has been climbing higher for more than a week, increasing around 150 pips, as the USD has turned weaker on prospects that the FED might hold on from tapering and keep the stimulus programmes as they are. We have heard bullish comments from FED members, but chairman Jerome Powell is not giving any signs that he wants to start tapering soon.
So, the USD has turned weaker, which has been pushing EUR/USD higher. Although, that might be coming to an end soon. This pair has reached the 50 SMA (yellow) on the daily chart and the stochastic indicator is now overbought, while the trend is bearish. So, this retrace might have come to an end, which seems like a good opportunity to sell EUR/USD.
EUR/USD
The economic data is softening in the Eurozone and the increase in restrictions once again as we head toward winter will weigh further on the Euro. The confidence declined in August on all fronts as shown in the report below, so the cool off has already started and EUR/USD will follow suit soon after this pullback ends, which already seems to be the case.
Eurozone August Consumer Sentiment Report by Eurostat – 30 August 2021
August final consumer confidence -5.3 points vs -5.3 prelim
Economic confidence 117.5 points 118.6 expected
July economic confidence was 119.0 points
Industrial confidence 13.7 points vs 13.7 expected
July industrial production was 14.6 points
Services confidence 16.8 points vs 19.9 expected
July services confidence was 19.3 points
A slight moderation in euro area economic sentiment for August, after the first reading, backing off the all-time high recorded in July. This reaffirms that overall activity and morale in the region is still high but is likely to abate as the summer comes to an end. So, this might really be the top for EUR/USD.
We have turned bearish in EUR/USD as the bullish pressure fading and the price heading for 1.07 now
15 hours ago
The USD is looking quite bullish now after a rollercoaster ride during last weekend
2 days ago