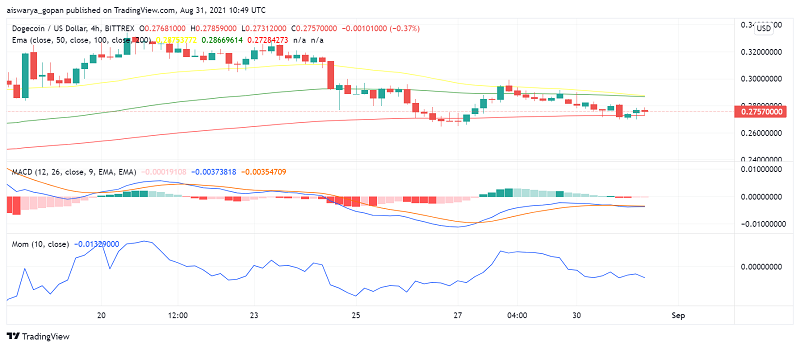 Can Mark Cuban's 'Dogemania' Take Dogecoin (DOGE) Above Pivot Point?
The most popular memecoin Dogecoin (DOGE) seems to be making somewhat of a recovery, climbing higher slowly after registering a weekly loss of more than 11%, possibly over reports of the upcoming updates that will work towards reducing transaction fees on the blockchain soon. At the time of writing, DOGE/USD is trading around $0.275.
According to latest reports, nearly 300 live nodes are already using the latest update to the blockchain, titled 1.14.4. Since the weekend, Dogecoin's community is trying to drive up adoption of the new update among nodes which will bring greater levels of security and work towards bringing down transaction fees to a fraction of current levels, which could increase adoption rates of the memecoin among users. However, nodes running older versions need to upgrade their software for maximum efficiency.
Also supporting DOGE is billionaire investor and a leading promoter, Mark Cuban, who recently unveiled a campaign titled Dogemania to boost the cryptocurrency's usage as a payment option. The incentives promotion will allow buyers paying in DOGE to receive rewards in the form of gift cards, further boosting the use of the memecoin as a method of transaction.
Another positive development that can lend some support to DOGE in the near-term is news of a Louisville-based coffee shop rebranding itself as Dogebean and starting accepting payments in Dogecoin. So far, the cafe already receives 25% of its payments via cryptocurrencies. Although no timeline has been shared, the business will start accepting payments for coffee and other offerings via DOGE, giving users one more way to use the memecoin for conducting transactions.
Exerting downward pressure on DOGE lately is news of a potential Dogecoin mining scam in Turkey that has stolen as much as $119 million worth of investments in the memecoin. According to news reports, the suspect 'Turgut V' lured investors into DOGE mining operations via in-person meetings, networking events and other promotions, promising to double their investments in 40 days. As many as 1,500 investors fell for the scam and gave the suspect access to their DOGE holdings, losing their investment when Turgut V shut operations abruptly.
Key Levels to Watch
On the 4-hour price chart of DOGE/USD, most of the moving averages as well as leading technical indicators MACD and momentum are signaling a bearish bias. However, the 200 EMA (red) and 200 SMA are suggesting some buying interest among investors as well.
Dogecoin's price is sitting below the pivot point at $0.291 but has managed to hold above the immediate support at $0.255. A break past the pivot point can turn the sentiment back to bullish; however, if selling pressure builds up, we could see a test of the support level soon.