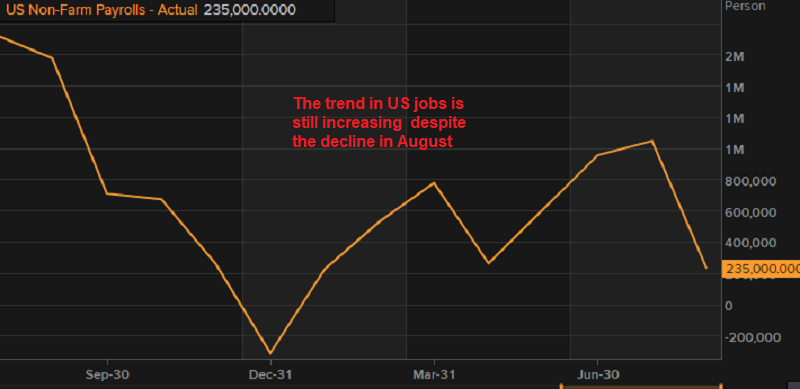 Decisive Time for USD/CAD at the 50 Daily SMA, After Another miss in US Employment
USD/CAD finally made a reversal higher, after being bearish from March last year. It declined from 1.4660s to 1.20, where it started reversing higher. The reverse began at the beginning of June and then it started going up, getting pretty close to 1.30 before pulling back down, after forming an upside-down pin, which is a reversing signal. But there have been some decent pullbacks during this bullish trend, and this one seems like another one of those. The US employment report has just been released, and it should get this pair going.
USD/CAD facing the 50 SMA now
August 2021 US non-farm payrolls data
August non-farm payrolls +235K vs +750K expected
Prior was 943K (revised to 1053K)
Two month net revision +134K
Unemployment rate 5.2% vs 5.2% expected
Prior unemployment rate 5.4%
Participation rate 61.7% vs 61.6% expected (was 62.8% pre-pandemic)
Prior participation rate 61.7%
Underemployment rate 8.8% vs 9.5% expected (9.2% prior)
Average hourly earnings +0.6% m/m vs +0.3% expected
Average hourly earnings +4.3% y/y vs +4.0% expected
Average weekly hours 34.7 vs 34.8 expected
Change in private payrolls +243K vs +665K expected
Change in manufacturing payrolls K vs +25K expected
Long-term unemployed at 3.2m vs 3.4m prior
The employment-population ratio, at 58.5% vs 58.5% prior (61% pre-pandemic)
The household survey was decent, with unemployment continuing to fall, but the establishment survey was poor, with 'leisure and hospitality' adding no jobs, in a sign that pandemic-related re-hiring stalled during the month. In particular, there were 42K job losses in food services and drinking places.
The higher wage numbers reflect fewer low-wage workers from pandemic-affected industries, but I wouldn't take that as a positive sign. Part-time jobs for economic reasons were unchanged at 4.5 million.
This reduces the chance of a September taper announcement, and may even take the chance of a taper hint off the table. What's important to note is that the Fed will only get one more jobs report before the November FOMC. That meeting is on the 2nd, and the October  jobs report isn't due until the 5th. So this considerably dims the chance of a November taper announcement.