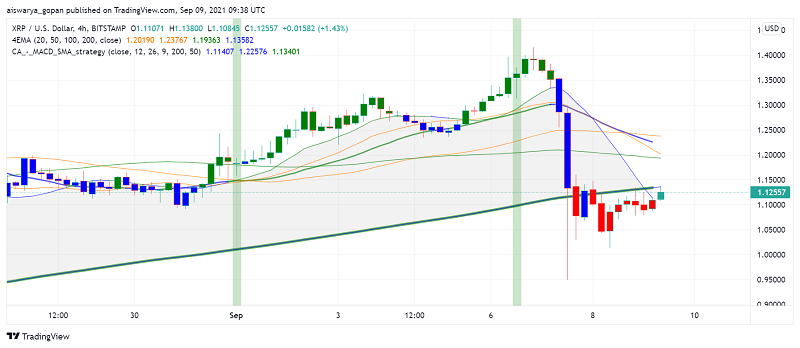 Will Ripple XRP Find Some Support From Developments in the SEC Lawsuit?
Ripple's XRP is back above the key $1 level after dipping below it in the previous session on account of the sudden market crash experienced in the wider crypto sector earlier this week. At the time of writing, XRP/USD is trading around $1.12.
Analysis of the trading volume in XRP paints a bleak picture at the moment, with volume crashing sharply in the previous session. There was a feeble attempt at a rise sometime later but at the moment, it still remains weak. Lower trading volume denotes receding interest in the cryptocurrency among investors and users, which will exert bearish pressure on the XRP.
Will Developments in the Ripple vs. SEC Lawsuit Offer Support?
On the legal front, Ripple's lawyers have clapped back at the SEC for refusing to divulge information on its employees' XRP holdings prior to the lawsuit. The SEC's response to Ripple's demand for the information stated that the "motion to compel the production of confidential details of trading by individual SEC employees… whose personal affairs are not at issue in this case."
In the latest filing with the court, Ripple's legal team notes, "That the SEC permitted XRP purchases and sales by its own employees… directly undermines the SEC's claims that since 2013 [Ripple] acted recklessly… because it was so obvious that XRP was a security that they must have been aware of it." This could be turned into an advantage for Ripple as its lawyers could insist that the SEC had previously allowed its own employees to trade XRP well before alleging that it was an unregistered security – the basis of this lawsuit.
Key Levels to Watch
On the 4-hour chart of XRP/USD, most of the moving averages along with the MACD are suggesting a bearish bias at the moment. Although, the 200 EMA and the momentum indicator are flashing buy as well.
Ripple's XRP appears to be edging higher gradually, but it stays underneath a support level at $1.15 and the pivot point at $1.24. A confirmation of an uptrend can only happen once these two levels are overcome by an increase in buying pressure.