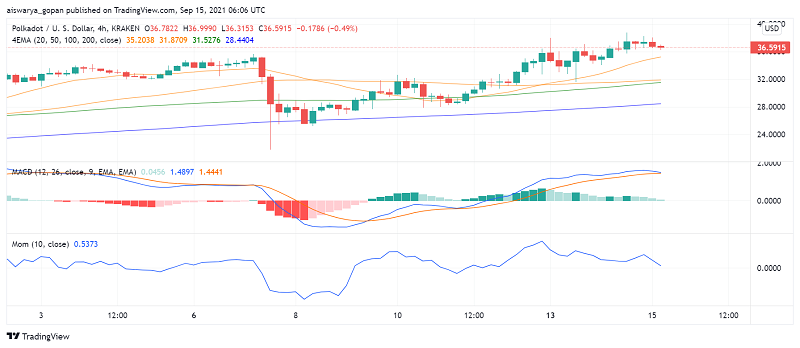 Is Polkadot (DOT) Getting Ready to Reclaim and Rise Above ATH?
Early on Wednesday, Polkadot (DOT) extends its rally and continues its climb higher after notching a weekly gain of more than 30%, making the most of the bullish mood among investors towards the wider crypto sector and supported by promising fundamental developments. At the time of writing, DOT/USD is trading around $36.59.
Investors Look Forward to Upcoming Developments
The potential Ethereum killer that offers support for interoperability among different blockchain networks via its parachains feature is gearing up to auction slots for these parachains in the next couple of months. This comes a few months after Polkadot's canary network Kusama concluded the first round of parachain auctions successfully. These parachains will allow projects to operate seamlessly on other blockchain networks as well as on Polkadot, targeting a wider user base and increasing the value of the DOT token in turn.
There is considerable excitement building up among the community as the blockchain gets ready to roll out a major technical upgrade towards the end of this year. This could give Polkadot a significant boost in technology, allowing it to take on its competitors especially in the exciting sphere of DeFi and NFTs.
Polkadot Getting a Boost to Compete in DeFi Space
Last week, decentralized data aggregator SubQuery successfully raised $9 million in funding to build Polkadot's first data aggregation layer, improving data indexing capabilities of the blockchain. The funding will enable SubQuery to increase access to blockchain data on Polkadot as well as on Kusama through the creation of new markets for data indexing and provisioning.
The DOT could find additional support from the announcement by DEX dTrade raising $22.8 million for a market-making fund to increase the scope of DeFi adoption on the Polkadot network by offering more liquidity on its platform. This comes only a few months after the decentralized exchange raised $6.4 million in funding to lend a boost to the blockchain's DeFi capabilities ahead of its launch which is scheduled to take place later this year.
Key Levels to Watch
On the H4 price chart of DOT/USD, moving averages and the MACD are exhibiting a strong bullish bias in the market at the moment, suggesting room for more upside in the near-term. Although, the momentum indicator reveals some selling interest as well.
Polkadot's price is holding comfortably above the pivot point at $31.36 and it looks like buyers are gearing up to test the first resistance coming up at $40.86. A break past this can see another resistance being tested at $45.94 before DOT reclaims its ATH and possibly even rises beyond it to newer highs.
Cryptocurrencies were showing strong bullish pressure in the first two months of 2023, but the bullish momentum has faded
7 months ago