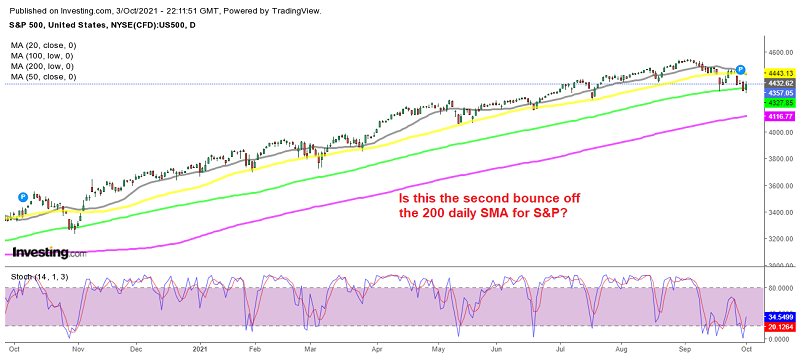 Holding on to Our 2nd S&P500 and Apple AAPL Signals, After the Bearish Fake-Out
S&P500 Analysis – The 100 SMA Holds as Support
Stock markets have had the greatest bullish run in history since March 23, 2020. This came after the biggest dive for about a month, as coronavirus broke out in Europe. S$) dived from 3,400 points to below 2.200 points during that 1-month period, while during the surge it more than doubled in value and increased to $4,550 points.
There has been the occasional pullback lower to moving averages, but S&P500 has reached the 100 SMA (green) on the daily chart only once before September, while the 20 SMA (gray) and the 50 SMA (yellow) have been the ultimate support indicators.
We went long on S&P after the bounce off the 100 MSA earlier in September and last night we decided to open a buy signal right above the same moving average. The 100 SMA seems to be holding again, so we are holding on to our second trade here, after the first which we took at the 50 SMA got smoked on the way down.
Apple AAPL Analysis – IS the Pullback Over?
The chart setup points to a bullish reversal 
The picture is similar in Apple stocks, although the charts are more irregular here since this is just a single company stock and not an index of stocks, and the pullbacks have been deeper. Here the 200 SMA has been the last line in the sand for this share.
We decided to go long at the 50 SMA after the retreat last month, but the decline continued lower on fears of a global economic slowdown due to coronavirus lockdowns and restrictions, after the situation in China. But, the decline continued and our trade here was also lost. But, we decided to open another signal, so those of you who have received the forex signal on APPL stock or are reading this article, should open a buy trade as soon as the market opens, or before if you can get in with options.