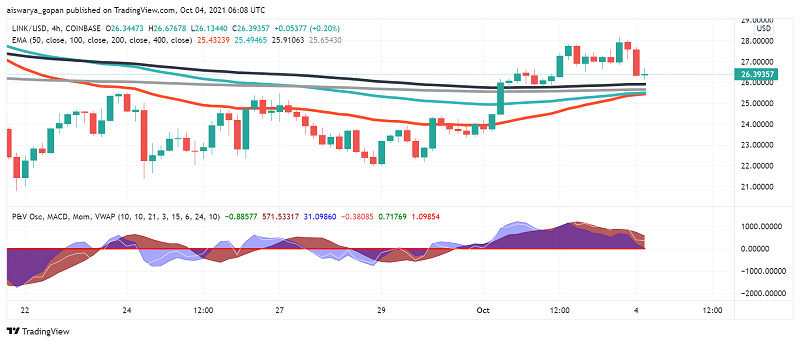 Will Chainlink's Flurry of Integrations With NFT Projects Drive a Rally in LINK?
After trading strong through the weekend, the bearish mood in the crypto market is keeping gains in Chainlink (LINK) in check as investors react to Bitcoin's drop under the $48,000 mark; however, strong fundamentals offer solid support for now. At the time of writing, LINK/USD is trading at around $26.39.
The decentralized oracle network has been garnering significant attention in the crypto market ever since the fourth largest crypto by market cap, Cardano, announced a partnership with it recently. However, the downbeat sentiment in the wider crypto sector due to China's latest ban on crypto transactions weighed on investor confidence and this development failed to drive a rally in Chainlink through last week.
Rising Adoption of Chainlink's Technology Among NFT Projects
Meanwhile, Chainlink's adoption continues to rise, with more projects partnering with it to leverage its technology. One of the most notable announcements is NFT lending protocol JPEG'd partnering with the oracle network to offer its users a way to secure loans against CryptoPunks as collateral. JPEG'd will leverage the Price Feeds to give holders of the high value CryptoPunks NFT collection access to loans.
Another NFT platform PolyientX also announced an integration with Chainlink's Verifiable Random Function (VRF) to provide all its projects access to a tamper-proof and auditable source of randomness. PolyientX will leverage the technology on its Ethereum deployment and will also expand to service its expansion into the Avalanche blockchain in the future.
Chainlink's VRF feature will also be leveraged by NFT fundraising platform StartFi to enable fair randomness in its operations. StartFi plans to use the VRF technology on its deployments across Binance Smart Chain, Polygon as well as Ethereum. DEEPSPACE is an example of one more use case for Chainlink's VRF, leveraging the technology for random assigning to its in-game ships minted via its NFT markeptlace. The blockchain network will also use VRF for other use cases that require randomness within its ecosystem, further driving up the use of Chainlink's network and supporting the value of the LINK token as a result.
Technical Analysis of LINK/USD
Meanwhile, leading crypto strategist and analyst Michaël van de Poppe forecasts an upcoming rally in LINK against BTC. He considers Chainlink to be the most undervalued crypto among the top 20 by market cap and expects more bullishness in the coming sessions.
On the 4-hour chart of LINK/USD, almost all moving averages are suggesting a bullish bias. However, leading technical indicators MACD and momentum are flashing sell as well.
Chainlink's price is sitting just above the pivot point at $25.91 and needs an increased push among buyers in the market to rise further. An uptickin in buying interest can see a test of the immediate resistance at $29.83 soon.
Cryptocurrencies were showing strong bullish pressure in the first two months of 2023, but the bullish momentum has faded
3 months ago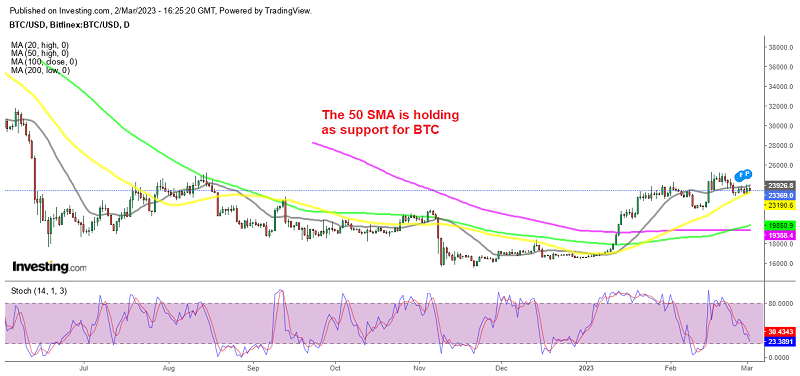 3 months ago