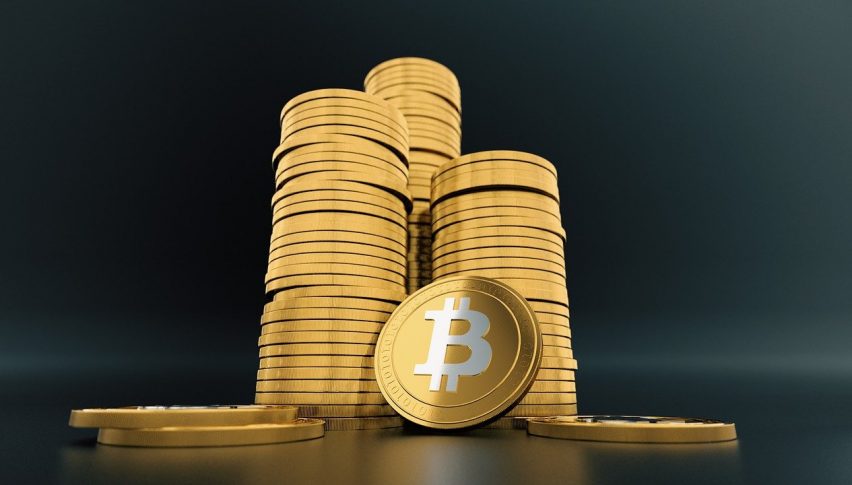 BTC Skyrockets to $51K as SEC Chief Confirms the U.S. Won't Ban Crypto
Posted Wednesday, October 6, 2021 by
Arslan Butt
• 3 min read
Bitcoin's

dominance 

has 

increased 

dramatically 

as 

a 

result 

of 

today's

surge.

To

meet 

demand, 

U.S.

Bank 

has 

launched 

a 

cryptocurrency 

custody 

service.

SEC Chair Gary

Gensler 

confirms 

Jerome 

Powell's

comments 

that 

the 

U.S.

has 

no 

plans 

to 

ban 

cryptocurrency.
Bitcoin's domination grows as its price soars to $51,500 as SEC Chief Confirms the U.S. won't ban crypto. Gary Gensler confirms Jerome Powell's comments that the U.S. has no plans to ban cryptocurrencies.
U.S. Won't Ban Crypto
This month, all eyes are on the SEC's prospective approval of a bitcoin ETF, especially significant considering two recent developments. Gary Gensler restated his preference for a bitcoin futures ETF rather than one based on spot pricing at a conference last week. That's significant given that the proposals up for review this month are mostly futures-based.
In addition, the CME said that it was raising the restrictions on initial BTC futures positions. Notably, this new rule will effect on October 18, the same day the SEC is expected to make a ruling on the ProShares Bitcoin Futures Strategy ETF. This might be a coincidence, or the CME is preparing for a jump in futures volumes.
Bitcoin Closes Over $51,000
BTC/USD closed at $51,508.0 after reaching a high of $51,891.1 and a low of $48,065.0. BTC/USD continued with its bullish trend and surged for the third consecutive session on Tuesday, moving above the $50,000 level for the first time since El Salvador's adoption.
The world's largest cryptocurrency in terms of market capitalization surged to pass the $50,000 mark for the first time in four weeks on the back of mounting institutional interest in the currency. Banks and financial institutions were moving more and more into bitcoin to cope with the rising investor demand that added to the value of the BTC/USD.
U.S. Bank Announces Cryptocurrency Custody Service
On Tuesday, the fifth-largest bank in the United States, U.S. Bank, announced that its cryptocurrency custody service was available to fund managers. The vice-chair of the bank's wealth management and investment service division, Gunjan Kedia, said that the offering would help investment managers store private keys for BITCOIN, Bitcoin Cash and Litecoin with the help of sub-custodian NYDIG. He said that support for other coins like Ethereum will be added in the future.
This move was the latest sign that established financial players would accept cryptocurrencies as a legitimate asset class. Kedia said that their clients were getting very serious about the potential of cryptocurrency as a diversified asset class, and she also said that she didn't believe that there was a single asset manager that was not thinking about it right now. These comments added further support to the rising prices of BTC/USD.
CoinDesk Reveals 25% Surge in Bitcoin's Market Share
On Monday, data from digital asset manager CoinShares showed that the cryptocurrency investment products and funds recorded inflows for a 7th straight week as institutional investors warmed to more supportive statements from regulators. On Tuesday, the specialist crypto tracker and research provider CoinDesk released a market review that showed a 25% gain for bitcoin and a 32% gain for ether during Q3 2021. The report cited the surge in NFT, which uses blockchain to record the ownership of digital items like images, videos, collectibles, and even land in virtual worlds. The sale of NFT surged to $10.7 billion in Q3.
Furthermore, on Tuesday, the Nicklaus Children's Hospital Foundation announced that they have started accepting bitcoin donations. This non-profit organization in South Florida supports the needs of patients and families of the Nicklaus Children's Hospital. They aim to provide donors with an alternative and tax-advantageous donation vehicle. However, it was unclear if the organization would hold BTC. The new donation method will be made possible through the partnership with The Giving Bock.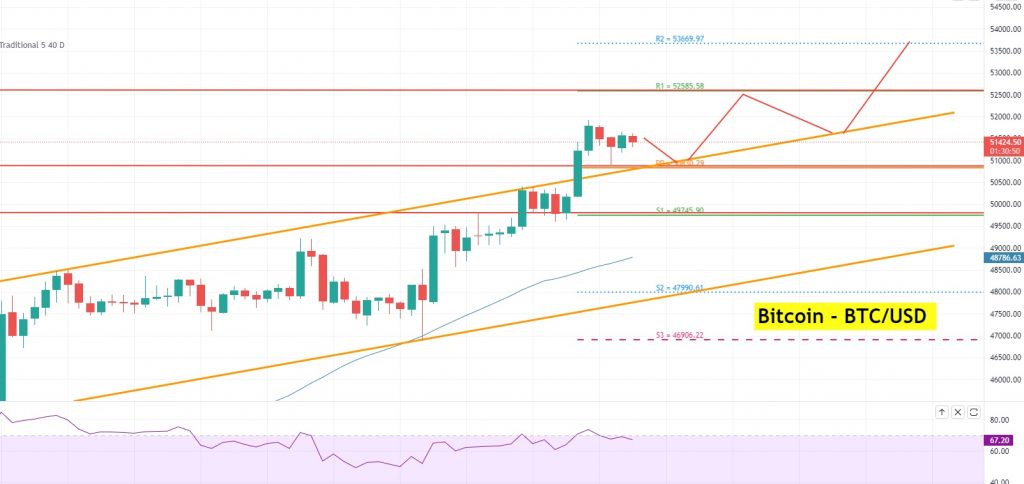 Bitcoin Technical Outlook – SEC Chief Confirms the U.S. Won't Ban Crypto
Bitcoin's technical analysis indicates a strong bullish bias, with the currency currently trading at $51,424. Investors are taking massive positions over sentiments that the U.S. won't ban crypto. The coin has already crossed above the pivot point level of 50,900. The closing of candles above the 50,900 level supports a strong bullish trend in Bitcoin.
On the higher side, Bitcoin is likely to target an immediate resistance level of 52,585. Whereas, the break out of the 52,585 level has the potential to lead Bitcoin prices towards the 53,669 level. In contrast, a break out of the 50,900 level could trigger a sharp selling trend in Bitcoin until the 49,745 and 47,990 levels.
The leading technical indicator such as RSI is holding in a bullish zone. Therefore, the chances of a bullish trend continuation remain strong on Tuesday. The 50-day simple moving average (SMA) is supporting a strong bullish trend in Bitcoin. Thus, let's consider taking a buy trade over 50,900 and vice versa. Good luck!
During Thursday's Asian trading session, the SHIB/USD pair failed to stop its previous-session downward rally and remained
2 days ago