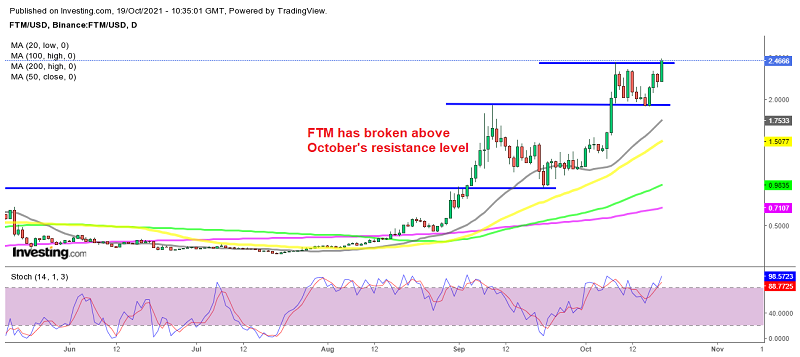 Solana, Fantom Crypto Analysis – New Record Highs for FTM, SOL/USD Forms a Triangle
As we have mentioned before, in October, the crypto market has been divided  into bullish cryptos and not-so-bullish ones, which are stagnating. The bullish ones have been making decent gains this month, and some, such as Fantom, have reached new highs, while Solana seems ready for a breakout, so let's have a look at these two crypto coins.
Fantom Daily Chart Prediction – Has the Third Bullish Wave Resumed?
Fantom is the most interesting crypto right now, as it keeps making higher highs all the time. FTM/USD broke above May's high of $1 in September, making a new high just below $2, then we saw a pullback lower. The retrace down followed that, but the previous high at around $1 turned into a support zone.
Earlier this month, we saw a new high, as buyers pushed the price above $2, up to $2.55. The price retreated lower, but once again, the previous high turned into a support zone at around $2. Now, the price has bounced off the support, and buyers are setting new highs, as they remain firmly in control.
There have been quite a few positive events for Fantom recently, which are helping push the price higher. The other leading DeFi project, yearn.finance, has announced that it will expand its multi-chain, incorporating the Fantom blockchain DeFi ecosystem. Nansen, which is a well-known data analytics provider, has also announced its support for Fantom. OpenOcean which is one of the leading DeFi (decentralized finance) and CeFi (centralized finance) aggregation protocols, has announced that it will partner with Fantom. This will offer users more trading opportunities and prices.
Solana Daily Chart Prediction – The 50 SMA Pushing the Lows Higher
Solana, which has a market capitalization of US$45 billion, is a similar network NFT coin to Fantom. It saw growing demand during August and early September, as the price increased 10-fold, but the highs have been declining for more than a month now.
A breakout of the triangle is expected soon
Although, on the other hand, the lows have been getting higher at the bottom. The 50 SMA (yellow) has been providing support recently, and the 20 SMA (gray) has also joined in now. So, a triangle is forming for Solana, with the price reaching the tip of the triangle now.
A breakout is expected to take place in SOL/USD soon, which should be to the upside, since the pressure in the market right now is bullish, with Bitcoin trading within sight of the all-time high ATH at $65,000. We might trade the breakout here and open a buy signal if the price breaks out soon.