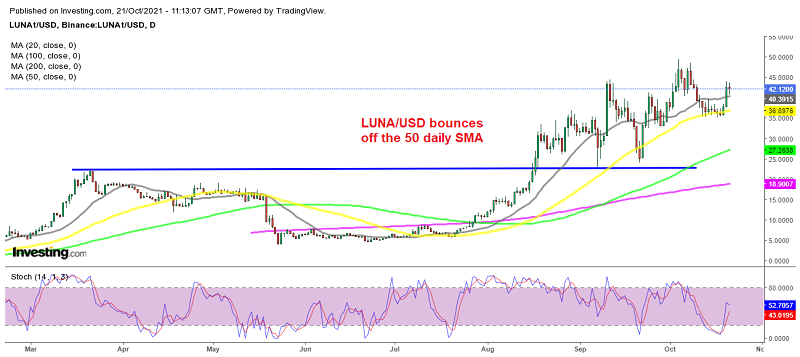 Terra (Luna) Heading for All-Time Highs, Cardano (ADA) Looking for a Bullish Breakout
Until now, most cryptocurrencies have been playing dead during October, while Bitcoin has kept progressing higher, pulling several cryptos up with it. But, the last few days have been interesting again, as the bullish momentum managed to catch up with the entire crypto market, as Bitcoin broke above the previous all-time high (ATH) of $65,000. Cryptos that were not reacting before have turned bullish, while the ones that were already climbing before, are now targeting some important levels, so things are moving again in the market.
Terra Luna Bouncing off the 50 Daily SMA
Terra Luna has been showing great resilience since late July, when the sentiment turned bullish in the crypto market. During September, when most cryptocurrencies retreated lower and entered another bearish phase, LUNA/USD kept going higher, making new highs just above $50.
One of the reasons for the bullish momentum here is the bullish run in the crypto market, and particularly in Bitcoin. The other is the increasing interoperability of this blockchain. Communication bridge Wormhole has announced a user interface support for the Terra network, allowing it to be connected to other leading networks, such as Ethereum, Solana and Binance Smart Chain.
Looking at this from a DeFi perspective, it is a significant development, as it enables users to transfer tokens from different blockchains to Terra's ecosystem and vice versa. With no need to double wrap Terra tokens, the Wormhole support will allow for greater adoption of Terra's stablecoins, which in turn will increase the value of LUNA – this is the blockchain's native token, used for its governance and price stability mechanisms. So, Terra Luna is heading for an ATH of $50, after bouncing off the 50 SMA (yellow) on the daily chart, as shown above.
Cardano (ADA) Bouncing Off the 100 Daily SMA
The range between the two MAs is tightening 
Cardano hasn't followed Bitcoin higher, so it was in the main group of cryptos that remained bearish throughout September, and have been hesitating to turn bullish in October. But, the break of the $65,000 level in Bitcoin has improved the situation, and the slow cryptos are starting to turn bullish as well, albeit slowly.
On the way down, Cardano found support at the 50 SMA (yellow) on the daily chart for some time, but that moving average was eventually broken, and the 100 SMA (green) took its place. That moving average has been acting as support since last September, and now we are seeing a jump off that moving average. But, the 50 SMA is standing at the top, and acting as resistance. So, we might see a break off the 50 SMA soon, if the buying pressure persists, but the climb looks pretty weak. We are long on ADA/USD and we are going to keep that crypto signal open.