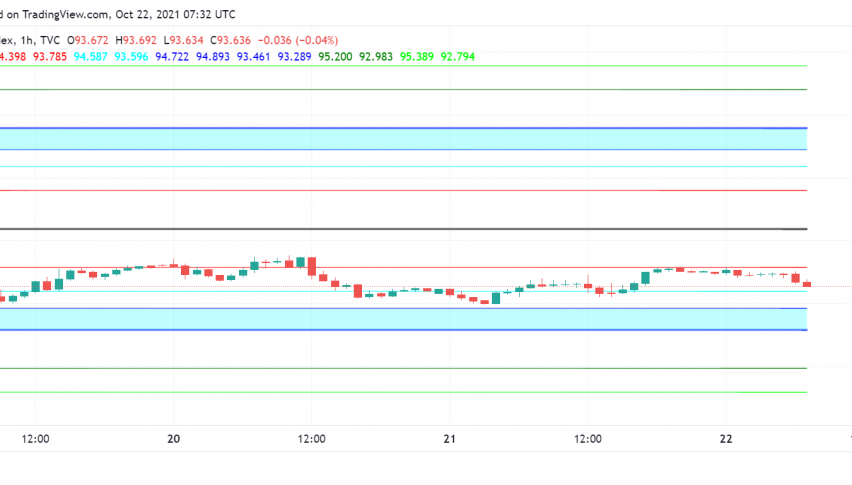 US Dollar Reverses Some Losses – Economic Data Supports
The US dollar appears to have reversed some of its recent losses in early trading on Friday, supported by positive economic data from the housing sector and labor market as well as a slight uptick in US Treasury yields. At the time of writing, the US dollar index DXY is trading at around 93.64.
However, despite these gains, the dollar index is set to end this trading week in the red, registering a loss of 0.18% so far this week. The weakness in the greenback came on the back of some weak economic data earlier in the week even as optimism about the Fed being the first leading central bank to implement monetary tightening measures faded as other economies also highlighted possible intervention to tackle high inflation.
During the previous session, the benchmark 10-year US Treasury yields rose to 1.7% but have since eased a little lower. However, the investor sentiment towards the greenback is weakening despite the Fed getting ready to start tapering its monthly asset purchases from November. Previously, analysts had forecast a bull run in the US dollar over the current quarter on the back of rising hopes for the Fed to tighten its monetary policy sooner and possibly be one of the first of the major central banks to implement a rate hike.
The expectations have tempered down this week after the BOE Governor hinted at a possible rate hike coming up in the UK soon to offset persistently high inflation. Meanwhile, NeW Zealand also reported a strong increase in consumer inflation a few days ago, raising expectations for faster rate hikes and monetary tightening by the RBNZ.
Meanwhile, profit-taking by investors caused leading commodity currencies CAD and AUD to drop against the USD. The sell-offs in these currencies could have been triggered by China's decision to step in to reign soaring energy prices, which could result in a price correction in key commodities such as crude oil and coal, key exports out of Canada and Australia respectively.