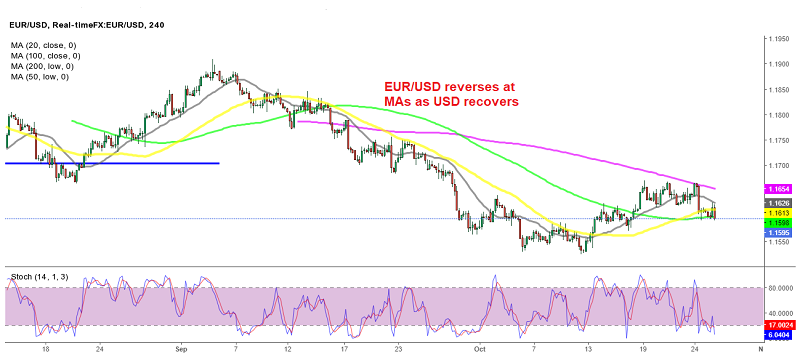 EUR/USD Turns Bearish, As US Economy Shows Signs of Further Improvement
The US economy picked up incredible speed earlier this year, but during summer it cooled off a bit. The Eurozone Economy was late to catch up in summer after the restrictions last year, but it has started to show signs of cooling off now. The US economy on the other hand, is picking up pace once again in Autumn, with unemployment claims falling below 300K since the start of the pandemic and the consumer confidence increasing again, which is also reflected on the new home sales report below. EUR/USD was retracing higher in the last two days, but has reversed down now and the pullback higher seems over.
US October 2021 Conference Board Consumer Confidence
October consumer confidence 113.8 points vs 108.3 expected
September confidence was 109.3 points
Details:
Expectations 91.3  points vs 86.6 prior
Present situation 147.4  143.4 prior
Jobs hard to get 10.6 points 13.4 prior
There was a 13-year high in short-term inflation expectations. Notably along with that was a rise in intentions to buy big-ticket items. That suggests that people are no longer anticipating prices to retrace.
"Consumer confidence improved in October, reversing a three-month downward trend as concerns about the spread of the Delta variant eased," said Lynn Franco, Senior Director of Economic Indicators at The Conference Board. "While short-term inflation concerns rose to a 13-year high, the impact on confidence was muted. The proportion of consumers planning to purchase homes, automobiles, and major appliances all increased in October-a sign that consumer spending will continue to support economic growth through the final months of 2021. Likewise, nearly half of respondents (47.6%) said they intend to take a vacation within the next six months-the highest level since February 2020, a reflection of the ongoing resurgence in consumers' willingness to travel and spend on in-person services."
US New Home Sales Report, September 2021
September new home sales 800K vs 760K expected
Prior was 740K (revised to 702K)
Single family home sales MoM +14.0% vs +1.5% prior
Median prices $408,800 vs $390,900 prior
Average prices $451,700 vs $443,200 prior
Months of supply 5.7 vs 6.1 months of supply prior
In August, there was a sharp fall in sales in the midwest and that continued this month with a 1.5% decline but that was swamped by a 32.3% rise in the northeast and a 17.5% rise in the south. The mini buyers' strike in US housing is likely over.
We have turned bearish in EUR/USD as the bullish pressure fading and the price heading for 1.07 now
15 hours ago
The USD is looking quite bullish now after a rollercoaster ride during last weekend
2 days ago